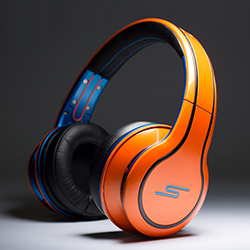 "50 Cent is passionate about achieving high quality sound, durability as well as exceptional style. We chose this business venture because we too believe in providing our customers with fashion driven, superb quality products."
Winona, MN (PRWEB) May 16, 2012
ColorWare, dedicated to customizing unique products for fashionable individuals, announces today a partnership with SMS Audio, 50 Cent's premier audio headphone and accessories company. Now at ColorWare, the SYNC by 50™ and STREET by 50™ wireless and wired headphones respectively, are available for customization.
There are nine elements on these professionally tuned headphones that can be personalized. ColorWare offers 46 colors in the design studio along with metallic, gloss, matte, or pearl finishes. In order to customize the headphones simply visit the design studio at http://www.colorware.com; select the headphone part then choose the color to create an original pair of headphones.
VP of Business Development at ColorWare, Jason Sobotta, welcomes the partnership with the artist and businessman 50 Cent. "50 Cent is passionate about achieving high quality sound, durability as well as exceptional style. We chose this business venture because we too believe in providing our customers with fashion driven, superb quality products."
SYNC by 50™ wireless headphones are the only wireless headphone to incorporate full on-board controls. The wireless headphones include:

Soft memory foam cushions
Passive noise cancellation
50' range from wireless transmitter
40mm drivers
High-end design with flashing blue "S" indicator light
STREET by 50™ wired headphones feature:

Soft memory foam cushions
Passive noise cancellation
40mm drivers and high-end design
Reinforced cord to eliminate twisting, tangling and knotting
Both sets of headphones were conceptualized under CEO 50 Cent's creative direction. SYNC by 50™ and STREET by 50™ are made with flexible polymer that remains durable over time. The headphones including customization are priced at:
SYNC by 50™ - $550
STREET by 50™ - $400
About ColorWare
ColorWare was founded on the idea that electronic devices could be more appealing than the standard colors offered by the original manufacturer. ColorWare products are creative and fashionable, giving their customers something unique that sets them apart from all the rest.
ColorWare is the only company in the world where you can create your own bespoke electronic device. The range of products spans from headphones to computers, portable PC's, phones and gaming consoles. Visit http://www.colorware.com.
About SMS Audio, LLC
A premier audio headphone and accessories brand, SMS Audio, LLC is dedicated to improving the way people experience music. SMS Audio combines technology, function and style to bring the highest caliber of sound, comfort and fashion to every product. For more consumer information on SMS Audio visit http://www.smsby50.com.