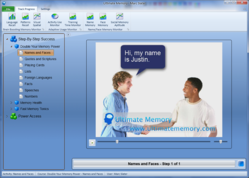 People are slowly becoming more and more concerned about their mental wellbeing.
New York City, NY (PRWEB) May 16, 2012
While most people believe that a good memory is only required by scholars and scientists, the creators of Ultimate Memory™ today announce that it could be the ingredient for a much easier life for everyone.
The company firmly believes that just a few minutes of daily training can have a profound effect on the ease of everyday life.
"From where the car keys are to the name of the person working at your local store, memory is called upon thousands of times each day to assist us with everyday tasks" says Marc Slater, Managing Director of the company behind the infamous memory improvement software.
He continues, "Anyone can train their memory very quickly. Suddenly, all of the small tasks in life will become a lot easier, providing a big picture change."
Slater and his team developed their software to provide significant memory improvements with just ten minutes of daily work.
The software boasts the ability to help its users quickly remember and recall thousands of pieces of vital information, improve their academic scores and even their current and future job prospects.
"It certainly isn't rocket science. It's a calculated and structured approach to training the memory for optimum performance. It's no different to using a gym to improve your body structure, except the memory can be trained a lot quicker, without the need to change your clothing afterwards!" Slater adds.
Following its birth out of the South Pacific, Ultimate Memory™ has seen global expansion. Already being used across the United States in thousands off different applications, the software has filled a much needed void in the market.
"We were struck by the huge demand for our memory improvement software. I think that people are slowly becoming more and more concerned about their mental wellbeing – and it is great to see people wanting to take positive action and make a change" Slater concludes.
For more information, please visit: http://www.ultimatememory.com
About Ultimate Memory™
Ultimate Memory™ is the market's leading memory improvement software package.
Scientifically proven to improve memory with as little as ten minute's user per day, Ultimate Memory™ is also backed by an iron-clad guarantee.
Containing many innovative strategies, tutorials, tips and exercises, users benefit from a myriad of varied ways to learn.