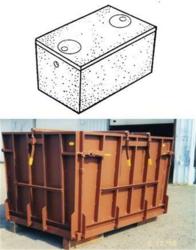 These plans give precast concrete companies the ability to build the molds on site or they can have the molds built by a local metal fabricator
Duluth, MN (PRWEB) May 17, 2012
Do-it-yourself leader, gizmoplans.com, is giving precast concrete companies the ability to save money with a new line of concrete septic tank forms plans. The new septic tank molds designs join a wide collection of other concrete forms plans available on gizmoplans.com. The collection includes individual plans for the building of septic tanks that have the capacity of holding anywhere from 300 to 3000 gallons with one or more compartments.
Precast concrete companies are still trying to recover in a shaky economy and one way that they can save time and money is through building their own precast concrete septic tank molds with the new plans that are available on gizmoplans.com. These plans give precast concrete companies the ability to build the molds on site or they can have the molds built by a local metal fabricator. By having immediate access to building plans, customers can speed up the process in building the molds and commence pre-casting their products much sooner.
Precast concrete forms can cost in the hundreds and thousands of dollars to purchase and such costs can limit a small business or company from expanding their product line. The new plans offered by gizmoplans.com give businesses and companies the ability to increase their revenue at a lower cost to them. Each of the plans are reasonably priced, are easy to use, and come with a satisfaction guarantee.
There are nine individual plans to choose from:

300 Gallon Septic Tank Form
1250 Gallon Septic Tank Form
1500 Gallon Septic Tank Form
1250 Gallon 2 Compartment Septic Tank Form
1500 Gallon 2 Compartment Septic Tank Form
1500 Gallon Combination Septic Tank Form
2000 Gallon 2 Compartment Septic Tank Form
3000 Gallon 3 Compartment Septic Tank Form
1000 Gallon Precast Septic Tank Form
Each of the septic tank forms plans come with detailed drawings and specifications that include tank weight, cover weight, inlet and outlet invert sizes, liquid levels, and interior airspace. The septic tank plans can be downloaded immediately from the website making it convenient to send them to the appropriate department or a local fabricator. For more information about the new septic tank plans and other plans available from gizmoplans, please visit their website at http://www.gizmoplans.com.
About Gizmoplans
Gizmoplans is an online informational website that provides businesses and individuals with downloadable DIY solutions. These plans can be used to build projects for recreation, hobbies, recycling, industry, woodcrafts, metal fabrication, alternative energy and much more. Gizmoplans is also a hub for businesses and individuals to upload and sell their own plans, patterns, how-to ebooks and more. This online marketplace can benefit both the purchaser and the seller in the DIY community. To get more information on DIY plans and DIY projects, visit Gizmoplan's website at http://gizmoplans.com/.