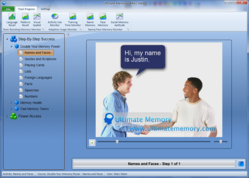 All of us have room for improvement.
New York City, New York (PRWEB) May 17, 2012
Following huge success in the South Pacific, Ultimate Memory™ announces its launch within the United States.
The unique memory improvement software has already helped thousands of people around the world train their brains into tip-top shape. The expansion of the company into the U.S market is poised to bring a positive change to the self-improvement software sector.
"At some point in their lives, everyone wishes for an improved memory" says Marc Slater, Managing Director of the company behind Ultimate Memory™.
Continuing, "Our software asks for only ten minutes of attention each day, and provides a very structured approach to improving memory within a short space of time."
Thousands of people have already purchased the software for use in the home, school or workplace. Containing dozens of fun and engaging activities, Slater and his team believe they have developed a tool that the world was waiting for.
"It's something that everyone can use, no matter what stage of life they are in and no matter how good their existing memory is. All of us have room for improvement and Ultimate Memory™ allows people to take themselves to the next level at a pace which suits them" Slater adds.
The team is diligently working to improve and update on their offering. Rumours suggest that a big update to the software may be on the horizon, although Slater has made no official announcement to date.
"All I can say is that we don't plan to give people just one opportunity to improve their memory. As new research comes to light, we'll act accordingly to ensure that there is always a challenge for brains around the world to tackle" he says.
The software is available online and boasts an impressive guarantee. Dozens of users have already submitted testimonials, providing an impressive marketing platform from which the product was able to launch.
For more information, please visit: http://www.ultimatememory.com
******
About Ultimate Memory™
Ultimate Memory™ is the market's leading memory improvement software package.
Scientifically proven to improve memory with as little as ten minute's user per day, Ultimate Memory™ is also backed by an iron-clad guarantee.
Containing many innovative strategies, tutorials, tips and exercises, users benefit from a myriad of varied ways to learn.