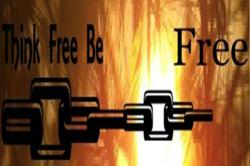 "I want to help people streamline their lives and become more efficient and effective in what they do on a personal level the same way I help businesses do it on a corporate level."
Tallahassee, Florida (PRWEB) May 31, 2012
Rewind back to August 2011: Take the phrase "see a need fill a need" from the Disney animated feature Robots, pair it with the desire to help others and the book "Think Free Be Free" comes to life.
Birthed with the purpose to inspire and motivate people of all ages--Patrick's life lessons are the placenta used to nourish and develop the book Think Free Be Free. His desire: Help people achieve their dreams in all facets by focusing on their personal life and careers; thus creating an option for a happier life regardless of income.
Forwarded to 2012, thoughts of outreach were in question. How could one populate the world with such knowledge? How do most people obtain information in this day and age concentrated with the use of smart phones, iPods, iPads, and internet? These questions initiated a bold move; consequently, "Think Free Be Free"the audio book was born. Think Free Be Free the audio program seeks to evoke a change in people's way of thinking. Simply put, you must think free to be free. Whether it's personal life or job related, Patrick encourages people to have a positive attitude, create positive change and reach positive results.
He didn't stop there. . . Patrick's desire for outreach on a grand scale led him to team up with Netia Cross and Tammie Houston- two persons with like desire and form Think Free Be Free Coaching and Consulting LLC. The company is built on the same principles of the book and audio program; with the ideal that his message and teachings can help anyone in any aspect of their life.
Think Free Be Free Coaching and Consulting LLC (T.F.B.F.C.C) offers an array of services such as: youth and corporate speaking, life coaching and business consulting.
Youth Speaking is tailored to encourage and inspire youth as well as young adults to define a focus in life and teach them to more than just deal with common stressors in life, but embrace them and use them as a platform for success.
Corporate speaking is a service which enables executives to get the most out of their employees and gives practical knowledge about changing corporate culture. In turn the number of effective leaders in your organization is expected to increase, along with your organization's performance and creativity.
"One thing I noticed when I got out of the military was an abundance of managers and a lack of real leaders. As I went from organization to organization and talked to people from all walks of life, their jobs seemed to be made miserable by managers that were poor leaders." –Patrick Irvine
T.F.B.F.C.C recently added another life changing component by offering attitude and perspective life coaching as one of its services. This service focuses on the fact and concept that life is not something that you go through, but something that goes through you. It focuses on the premise that attitude effects altitude. According to a 2011 CBS News report having a life coach as part of a wellness team can provide an approximate 300% return on investment. It is an excellent and necessary service for company executives and employees who want to control employee turnaround, develop new strategies for success, and improve job satisfaction.
Also offered is business consulting and process improvement. This service offers strategic planning for "Start-ups," as well as new direction seekers and those that want to improve the effectiveness and efficiency of their operation. This is a creative process which generates tools needed to get to the next level. The Lean Six Sigma DMAIC model is utilized to refine business processes.
"I want to help people streamline their lives and become more efficient and effective in what they do on a personal level the same way I help businesses do it on a corporate level," says Patrick Irvine. This statement has become his commitment and core of his community desires. His fire has been fueled by studies in Industrial and Organizational Psychology, cultivated by his certification as a Master Life Coach, and stoked by obtaining a Lean Six Sigma Black Belt certification.
Note from the team: "Think Free Be Free LLC is not in place to tell you what to do, but to encourage and empower you with the tools to reach goals. At Think Free Be Free Coaching and Consulting the goal is to support one on his or her path to achievement." - Netia Footman
T.F.B.F.C.C was founded by a military veteran that has joined up with other veterans, family, and professionals to create a brand new world; with the idea that everyone has a right to be happy and may require help getting there.
Go to the website and get better acquainted with the ideas and the message this new company has to offer. The site is loaded with videos, pictures, blogs, quotes, and information on the various products and service. The Think Free Be Free Audio Book is also available on the site.
"Think Free Be Free Coaching and Consulting will be a major force in the shaping of the minds of not just our young people, but in the shaping of the mind of our country. We will show the world that you have to first think free before you can be free." – Patrick Irvine