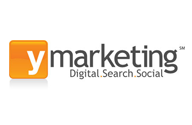 This timeline pays homage to the gradual growth from traditional marketing services to the new and very digital form of marketing
Orange County, California (PRWEB) May 16, 2012
Digital marketing agency, ymarketing, created a Decade in Digital timeline mapping digital innovations that revolutionized the 21st century. Since their start ten years ago, in 2002, ymarketing has grown with these changes in the digital world and witnessed their remarkable effects on the advertising and marketing industry.
"The Decade in Digital timeline notes highlights in the evolving digital atmosphere and how ymarketing was able to proactively adapt and take advantage of these digital turning points in the last decade," said Ryan Lash, Founder of ymarketing. "The boom of social media and online video content has changed the way both marketers and consumers absorb content. Consumers are exposed far more to digital advertisements than to print advertisements and these digital ads are more accessible to marketers because of their reasonable ad rates. This timeline pays homage to the gradual growth from traditional marketing services to the new and very digital form of marketing."
Despite Internet advertising's 16% slump in 2002, ymarketing launched with their success by helping clients emerge from this digital downturn. In 2003, Internet advertising made a rebound to 21% growth. New social media sites, search engines, email accounts, and file sharing networks all added to the growth of digital marketing services. ymarketing embraced each innovation and found a way to help their clients achieve the greatest return on investment with their digital services. During this time, marketers turned their efforts toward interactive advertisement spending as Internet ad revenues continued to rise.
The Decade in Digital timeline includes such notable innovations and data to support the growth and efficiency of interactive marketing. WordPress, for example, released in 2003 is one of the first forms of open source blogging that eventually spurred the art of blogging into the social media atmosphere. Facebook, Twitter, YouTube, and Google, alongside its Gmail counterpart, began to reign as top tier sites on the World Wide Web. As these sites gained traction, online advertisement spending changed to adapt to a consumer's lifestyle. ymarketing's decade in digital timeline notes changes to digital marketing that were especially spurred on by Google. ymarketing notes that Google's new approaches to relevancy ranking changed the way everyone does business today—and with that came the reincarnation of digital marketing.
Online video advertising attracted greater interest for brand pages than those who arrive at the page by click. Competition fired up between mobile phones, international internet usage comparisons, and brand social engagement.
Founded in 2002, ymarketing was originally focused on helping large brands like Callaway Golf and American Apparel establish online stores on the Yahoo! Store platform. The "Y!" store marketing consisted primarily of paid search, natural search and affiliate marketing. Since that time, ymarketing has expanded its business into a full-service digital marketing agency specializing in "click to close" eCommerce checkout and "click to contact" considered purchase lead-generation programs. Based in Costa Mesa, ymarketing has offices in Los Angeles and Chicago in addition to its Orange County headquarters. To share its approach to digital marketing, the company hosts a digital marketing news blog and speaks regularly at advertising conferences.
About ymarketing:
ymarketing is a data-driven, digital-marketing services company specializing in Search Engine Optimization (SEO), Pay Per Click / Search Engine Marketing (SEM), Digital Go-to-Market-Strategies, and Online Marketing Optimization. For more than a decade, ymarketing has partnered with agencies and assisted companies to increase revenue by generating qualified leads, acquiring new customers and increasing brand awareness online. ymarketing strictly focuses on strategies and techniques that grow revenue without increasing marketing expenses to drive positive ROI.
Recent awards and recognition includes: #1 Fastest Growing Private Company - Orange County Business Journal, #12 Fastest Growing Private Company in LA/OC - Inc Magazine, and HubSpot Partner of the Year - HubSpot User Group Summit 2010.
For more information, please visit http://www.ymarketing.com/