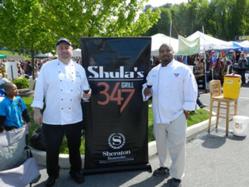 Roanoke, Virginia (PRWEB) May 16, 2012
On April 28, 2012 several local celebrity Chef's demonstrated their cooking and wine demonstrations throughout the day at Blacksburg's Annual Fork & Cork Festival. Festival goers were entertained and engaged throughout the day as they experienced signature dishes paired with wine in the following events: Chef 2 Chef, Chef Showcase, Everyday Gourmet and Wine Racket.
Sheraton Roanoke Hotel & Conference Center Hotel Executive Chef Tom Phelps and Chef Aaron Graham participated in the Chef Showcase Event ("Go Big or Go Home"), which demonstrates mega masterpieces. Their mega masterpiece was Steak au Poivre and Other Goodies. Proceeds from this event benefited The Blacksburg Partnership, a non-profit organization working to enhance the quality of life in Blacksburg.
The Sheraton Roanoke Hotel & Conference Center is a large modern hotel with over 17,000 square feet of meeting, conference, & social facilities. Parking, wireless internet in guestrooms, & public space, business center, fitness center & airport shuttle are all complimentary. Shula's 347 is the onsite restaurant, http://www.shulas347roanoke.com. The Sheraton Roanoke Hotel & Conference Center is proudly managed by Stonebridge Companies in Denver, Colorado.
Founded in 1991 by Navin C. Dimond, Stonebridge Companies is a privately owned, innovative hotel management company headquartered near Denver, Colorado, which has developed over 60 hotels and operated more than 75 lodging properties. Currently, Stonebridge Companies operates over 47 hotels comprising in excess of 7,000 guest rooms in Alaska, Arizona, California, Colorado, Nevada, Utah and Virginia. The diverse portfolio includes select-service, extended stay, mid-scale and full-service hotels in primary and secondary markets. For detailed information, visit our website at http://www.SBCOS.com.