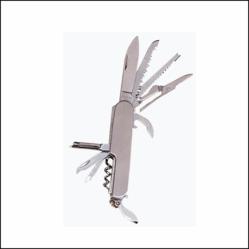 Stansport specializes in unique camping and survival products that fit perfectly within DRSupply's niche market inventory
Destin, FL (PRWEB) May 16, 2012
Disaster Relief Supply, an emergency preparedness national retailer, has been setting its sights on Stansport products for months. Stansport specializes in unique camping and survival products that fit perfectly within DRSupply's niche market inventory.
Stansport carries items like folding shovels, 6-in-1 emergency tools, multi-purpose knives, and life rafts. These kinds of survival supplies allow Disaster Relief Supply to offer its customers a larger variety of emergency and recovery products that fit a broader range of disaster scenarios. "Customers have been asking for life rafts and machetes since we opened," says Mike Fisher, Internet Marketing Manager of the E-Commerce Store, "we felt it was time to grow our inventory in the areas of outdoor survival, and Stansport afforded us the opportunity to get most of it from one place."
As Disaster Relief Supply continues to expand its inventory, Stansport products remain a viable choice. "Customers enter our store, and browse our website, expecting to find innovative emergency and survival products. With Stansport items on our shelves, we feel more comfortable that we are meeting consumer expectations," declares Fisher.