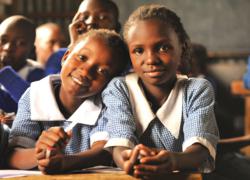 New York, New York (PRWEB) May 17, 2012
Luxury safari operator Micato Safaris is known thoughout the industry for many "firsts." It was the first tour operator to hire only local guides in the countries in which it operates. The first to do away with any and all tipping on its tours. And, yes, the first tour operator to address AIDS in Kenya—specifically its effects on the residents of Nairobi's Mukuru slum.
Micato is proud to announce that 2012 marks the 25th Anniversary of Micato-AmericaShare, the non-profit organization founded by Micato. Micato-AmericaShare is dedicated to improving the lives of impoverished women and children living in the Mukuru slum of Nairobi—people who have been made even more vulnerable by the HIV/AIDS pandemic—by providing educational and economic opportunities to those who need it most.
To commemorate this long-standing and sustainable effort, Micato is expanding upon its highly successful One for One Commitment. Through One for One, Micato Safaris pays the fees required to send an African child to school—a child who would otherwise stay home due to extreme poverty— for every traveler they take on safari. This initiative began in 2010 and was inspired by TOMS Shoes' One for One initiative, which gives a new pair of shoes to a child in need for every pair purchased.
Now, in honor of Micato-AmericaShare's 25th Anniversary, for every safari Micato sells, it will also:

Donate one book to a library built by Micato-AmericaShare in the heart of Mukuru.
Donate one Huru ("Freedom") Kit to provide Kenyan girls with desperately needed sanitary supplies so they can stay in school during their periods.
Donate one tree to the Nairobi Greenline Project.
Donate one gallon of water to Mukuru for every gallon used by our travellers.
"Education is the key to breaking the cycle of poverty, and getting to the root of the problem was the goal when we founded Micato-AmericaShare," says Lorna Macleod, executive director of AmericaShare, "To know that the children who were sponsored in the early years of our program are now graduating from college and improving their lives brings us joy and inspires us to reach more children. With the help of our travellers, we grow closer each day to achieving our goals of empowerment, education and a brighter future for all."
Here are just a few of Micato-AmericaShare's life-changing initiatives:
School Sponsorship Programme: Micato matches orphans and vulnerable children—many of whom have lost one or both parents to the HIV/AIDS pandemic—with generous Micato travellers who sponsor the children to attend boarding school, for the duration of their high school years and sometimes into university.
Lend a Helping Hand on Safari: Virtually every Micato itinerary in East Africa includes a visit to Micato-AmericaShare's Harambee Community Centre, where travellers are introduced to the shocking reality of the slum. During their visit local staff speak to travellers about the School Sponsorship Programme. By the end of the visit, many are inspired to sponsor a child.
The Micato-AmericaShare Harambee Community Centre: Recognizing the need for a headquarters for Micato's charitable work as well as a multi-purpose facility for impoverished residents of Nairobi's Mukuru slum, Micato-AmericaShare built the Harambee Community Centre in 2007 in the heart of Mukuru. The Harambee Centre serves thousands of Mukuru residents, offering day-to-day and long-term resources.
Key Harambee Centre Resources Include:
Computers for playing "Pamoja Mtaani"—Swahili for "Together in the Hood"—an educational video game developed by Warner Bros. for a PEPFAR-supported program designed to keep young people safe from HIV infection.
A library offering services to the Mukuru community six days a week.
A bore hole, drilled by Micato-AmericaShare, providing a plentiful supply of precious fresh water to the Harambee Centre as well as all Mukuru residents.
A basketball court along with spectator benches, built in part through the largesse of young Micato travellers using funds they received or raised at their bar mitzvahs.
A base for Huru International, founded in 2008 by AmericaShare executive director Lorna Macleod. Huru manufactures reusable sanitary pads that have thus far been distributed to more than 20,000 school girls, enabling them to attend school throughout their menstrual period.
"We treat our service work like we treat our guests, with focus and careful attention," says Dennis Pinto, managing director of Micato Safaris. He adds that, "After being a part of the luxury travel industry for many years, we've learned that the key to lasting success is to find what you do best, and do it with all of your heart."
About Micato Safaris
Micato Safaris is a luxury safari operator—offering adventures in East Africa, Southern Africa and India—that's been setting the industry standard for luxury and service for more than three decades. Travellers have recognized Micato's unsurpassed service by naming the company the #1 World's Best Tour Operator & Safari Outfitter" a record eight times in Travel + Leisure's prestigious annual survey. Micato's accolades from industry peers include the Conde Nast Traveler World Savers Award. For a quarter century, Micato's nonprofit arm, AmericaShare, has been supporting orphaned and vulnerable children and adults affected by the HIV/AIDS pandemic. Micato furthered its philanthropic outreach in 2010 when the company introduced its revolutionary One for One Commitment, which places one impoverished child in school for every safari sold.