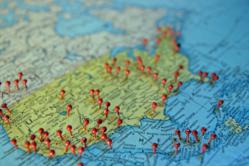 I was motivated to visit based on other users response to my questions.
Philadelphia, PA (PRWEB) May 16, 2012
The new Virtual Pin Map at uencounter.me offers summer travelers a valuable resource for discovering dining spots and interesting places coveted by local residents. Uencounter.me is a recent web start-up that encourages individuals to map places they have been, similar to the 'wall and tack' maps that exist in homes across the continent. The social element of uencounter.me allows users to share their maps with one another and discussion boards on each pin encourage interaction between users. "Users have been great about responding to questions posted by others" states Leslyn Kantner, Co-Founder and CEO. "I was looking at the new pins placed in the map near my home recently and found one in a little town that I have been curious about but never visited" she said. Commenting further, Kantner stated "I asked a question about the town and the user who had pinned it, detailed quite a few reasons that it would make a great day trip, I was motivated to visit".
Users can search for pins in particular areas and then look at other pins 'nearby'. Additionally, users can search based on activities or type of venue. Many of the pins in San Francisco depict art museums, restaurants, and parks that are favorites of the locals there, for example. People interested in White Water Rafting will find a number of different locations throughout the country where users have embarked on trips. A recommendation is only as far away as creating a free account and posting a question; often pictures are attached to pins as to allow for visual encouragement.
Locals are not the only ones creating pin maps. Travel Bloggers have begun to use the site to map blog posts and are another fantastic resource for travelers. For example, travelers visiting Rome this summer will find pins on the map that commentary from a number of different bloggers, seasoned travelers, and locals who suggest a variety of restaurants and not-to-miss sights. The site is just beginning to gain traction but already boasts thousands of pins across the globe depicting popular attractions and local charms. Tour operators, travel agents, and rental companies have discovered the benefits of creating pin maps and have placed pins in areas where they offer services, providing additional resources for the casual traveler.
Creating an account on the site is easily accomplished with a Facebook login or email address and it is free for the general public. Uencounter.me allows users to choose how names are displayed and can choose to remain anonymous if they are concerned about privacy. According to the founders, recent exposure in the travel industry has boosted user base growth in South America and India, areas very popular with European travelers. Kantner claims the team is working hard to provide updates and features requested by current users, one of which is a 'bucket list' pin. Users will be able to use this new pin to mark locations they intend to visit as a way of soliciting comments from others who have already traveled to that location. They expect to release this update within the next few weeks.
About: Uencounter.me is a virtual pin map that is social! While its nature lends itself to the realm of the travel industry, it was born from an innate curiosity of the interwoven universe in which we reside; the serendipitous nature of our lives, a life time of memories, and a desire to see it in a visual format. The site went live in November of 2011 and continues to expand based on user needs and recommendations.