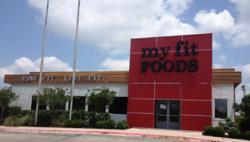 Austin, TX (PRWEB) May 16, 2012
Texas based healthy food concept, My Fit Foods is set to open its 5th Austin area retail location at 12412 N. IH-35 (I35/Parmer) Friday, May 18th in a space formerly occupied by Bennigan's.
"This is a monumental opening in the short history of the My Fit Foods concept thus far. This new Austin location also marks the 50th opening of the My Fit Foods brand nationwide. My 1st retail location was opened out of a 900 square foot former doughnut shop space, just a little over 5 years ago in April of 2007. Now 5 years later, it's such a thrill to be opening our 5th location in Austin, out of a 10,000 square foot retail location, once formerly occupied by a restaurant known for its large and unhealthy portions. I take great pride in re-branding spaces that were once homes to food establishments keeping Americans fat. Its satisfying to know that we now have the opportunity to help more Austinites GET Fit and LIVE Fit out of this fantastic space!", states Mario Mendias, Owner & Founder of My Fit Foods.
My Fit Foods was founded in 2006 out of the apartment kitchen of founder Mario Mendias, a former Marine and personal trainer who was dedicated to ensuring his client's achieved the results he promised. Out of the spirit of service, Mario, started cooking meals for his clients who were too busy to shop and prepare healthy meals with a time crunched schedule. Shortly after eating the portion controlled healthy meals, his client's fitness results began to speak for themselves! Soon Mario was not only cooking for his clients, but all the clients in the gym. "Clients working their tails off in the gym and not achieving the results they should, is every personal trainer's nightmare. As a personal trainer, I knew that my client's nutrition is what drove 80% of their results in regards to their health and fitness goals. Their nutrition, was the one part I could not control…or could I?"- Mario
In 2007, Mario outgrew his apartment kitchen and partnered with restaurant pioneer, Anthony Milton (My Fit Foods, CEO) to create My Fit Foods and expand the mission to provide fresh, healthy foods to go that taste great at an affordable price. The menu expanded with additional meals and snacks all focused on lean protein, low glycemic carbohydrates and heart healthy fats.
My Fit Foods was founded in the spirit of service, and we continue that spirit today through our kitchens, stores, schools and communities. Whether in need of a quick meal or snack on the go or want take advantage of the convenience and results of our 21-Day Challenge, we are here to make healthy living a reality.
With just a little over 5 years under their belt as a retail store concept, the opening of Austin's Parmer/I-35 location this Friday marks the 50th My Fit Foods installment within the company. Locations can now be found within Texas, Arizona, California, and Idaho. There's no slowing down for My Fit Foods, as they continue their expansion plans to take the concept even further nationwide while getting Americans FIT one meal at a time.
For Additional Information visit the following media links:
http://www.myfitfoods.com
http://www.youtube.com/user/MyFitNation
Facebook: http://www.facebook.com/myfitfoods
Media Inquires Contact:
Catherine Stiles
Director of Media & PR
My Fit Foods
832-651-8891
Catherine(at)myfitfoods(dot)com