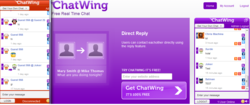 Palo Alto, CA (PRWEB) May 15, 2012
Social blogging has been one of the great ways to reach out to people, especially those ones who need help in various aspects whether financial or educational. This is based on the websites and blogs that were created for the premise of social entrepreneurship. Chatwing's development and research team has realized the strength of this niche, and this is why they recently introduced the latest version of their unique chat widget.
Chatwing's efficient communication tool specializes in the premise of website chat. Aside from that, Chatwing empowers a lot of bloggers from different parts of the world. This is the reason why many social bloggers have signed up during the release of Chatwing's second version. Adding to that, Chatwing users can log in using their Facebook or Twitter accounts. Through Facebook, users can now send out invitations to each other. In Twitter, people can find followers. There are also no qualms when it comes to the installation process of the widget.
Some bloggers have also observed that the online presence of their blogs chatrooms improved by more than eighty percent during the first week of usage. The percentage almost doubled when the bloggers have included interesting content mixed with pictures and other files. Chatwing's shout box is also versatile enough that it can adapt to different types of online communities. People also discuss topics such as trends, gadgets, research, and many more. For social entrepreneurs, Chatwing is an inexpensive way to reach their target market and spread their advocacy.
To make discussions more interesting, guests and visitors can now use emoticons and avatar displays. In the latest version of Chatwing, there are new avatar displays to tinker with. Chatwing also offers a high rate of customization for its free chat box. This simply means that the user can tweak the widget according to the theme of his blog. There are many possible options and color combinations for a single Chatwing widget.
About Chat Wing
Chat Wing provides a chat box for any web page online. It also lets anyone create free chatrooms on any website or blog. The Chatwing.com website offers users the ability to signup and create a customizable live chat box instantly with few details. Users can create chatrooms and have the ability to select the size, dimensions, and colors of the shout box. The ability to live chat with Facebook, Twitter or guest avatars is a unique feature which also includes social sharing features in real-time. This free chat widget can be embedded in seconds with a few lines of html code. Chatwing is free chatroom software available to any user.