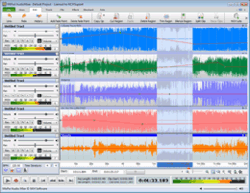 NCH Software has worked hard to make MixPad Audio Mixer easier to use than ever for recording, mixing and mastering professional sound and audio production projects.
Denver, CO (PRWEB) May 21, 2012
NCH Software, a leader in affordable, easy-to-use audio, video, business and software utilities, announced the release of high-demand updates to its MixPad audio recording and mixing software today. New features and upgrades include a mixing interface, and enhanced editing and effects capabilities.
Over the past six months, MixPad's development has been driven by top user suggestions. "Our developers have worked hard to make MixPad easier to use than ever for creating professional sound and audio projects," said MixPad's product manager Tim McLaughlin. "Users will be pleased with the added features and improvements."
McLaughlin noted that a common request from users was for a mixing interface, released in a recent version of MixPad. The graphical mixer gives users the convenience of keeping their tracks and mixing separate. It opens in a new window and can be positioned according to the user's workflow and preferences.
Major efforts were also made toward improving the editing and effects capabilities offered within MixPad.
In previous versions of MixPad, users relied on its sister product, WavePad audio editor, to edit their audio clips. Now users can cut, copy and paste selections directly in each track using MixPad's expanded editing features, in addition to the program's preexisting editing tools, which include trimming, adding silence, splitting clips, and editing fade points. MixPad still interfaces completely with WavePad for more advanced editing functionality.
Recent development has also significantly increased the range of MixPad's effect chain and VST effects. According to developers, the new effect chain is so enhanced it is like a new feature. The effect chain now lets users adjust each effect's parameters or apply preset settings, and to preview any combination of effects before applying them to the project.
MixPad's VST plugins, which give users more tools, effects and options to use in the program, now allow access to presets built into many plugins, which were previously unavailable through the MixPad interface. In addition to VST presets, VST instrument plugins were added to expand the functionality of MixPad's MIDI support.
Numerous other interface improvements were made to MixPad, most notably the option to customize track colors. McLaughlin also hinted at a number of other new features for MixPad that are on the drawing board and will be released soon. The current version of MixPad is available for a full, free 14-day trial from the NCH Software website.
About NCH Software:
NCH Software offers more than 80 easy-to-use software applications for audio, video, business, dictation and other software utilities. Individual programs fulfill specific needs and solidly integrate with related products, improving productivity for small businesses and consumers alike. By offering such a wide breadth of software applications at affordable prices, NCH Software is where users turn for reliable software applications for any need. This approach generates over seven million unique visitors and three million software downloads per month from the company's website – http://www.nchsoftware.com.