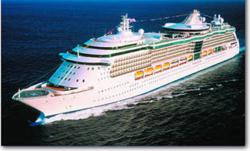 "I realized I was experiencing a whole new way to quickly grasp the key elements of seeing."
Boston, MA (PRWEB) May 17, 2012
Is it possible to become a much better photographer in just a week? Yes, it is, and the Digital Photography Workshop Cruise has been using its unique teaching methods to make that happen for the past ten years.
Once again, this fall, the workshop will sail from Boston to Halifax and St. John in Canada and then to Bar Harbor and Portland, Maine on October 21-28, 2012 aboard Royal Caribbean's luxury liner Jewel-of-the-Seas.
Attendees will capture images available only once a year –during the colorful fall season– in locations that have remained virtually unchanged for centuries. On the itinerary are tucked-away fishing villages, country churches surrounded by brilliantly-hued foliage, powerful tidal surges that reverse river flows, bagpipers, lighthouses, a U.S. National Park and one of the world's largest Titanic memorials.
The workshop has become known worldwide for its "visual awareness" training that enables attendees to become better photographers in a very short period of time as they are taught to quickly recognize critical visual elements that all great pictures have in common. Images shot by past workshop participants have appeared in national magazines and books and some former attendees have even become professional photographers.
Instructors will give lectures, demonstrations and answer technical questions in the workshop's private, high-tech, conference room and will also review images that attendees have made that day. Past participants cite those sessions as the reason for being able to rapidly improve their photographic skills and begin shooting pictures that they had never "seen" before.
"The give and take at the review sessions is one of the most valuable parts of the experience," says Elizabeth Phillips, from Pennsylvania, who attended last year's workshop. "I could see my pictures getting better each day as a result of the excellent feedback from the professional instructors on board."
Another former workshop participant from California, Chris Nelson, agrees. "I took this workshop a few years ago not expecting very much except a chance to see a few new places and shoot some pictures. But soon I realized I was experiencing a whole new way to quickly grasp the key elements of 'seeing' which, of course, is what making great images is all about."
The workshop is limited to 20 attendees to assure individual attention in a relaxed and enjoyable learning environment. All-inclusive costs begin at $2,195, with non-attendee companions paying less. For further information visit: http://www.dpcorner.com/cruise.