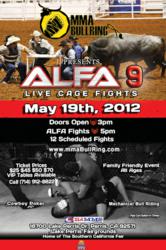 "BAMMA USA has a unique opportunity to bring our promotion to an area with a built-in fan base at a great facility. We are looking forward to being part of a great night of entertainment."-Brett Roberts, CEO of BAMMA USA
Santa Ana, CA (PRWEB) May 17, 2012
"MMA Bullring presents ALFA 9" looks to bring entertainment to a new level by respectfully combing these two action sports in authentic ways to meet the needs of current and future fans of both sports. Chris Greenman, CEO of MMA Bullring, made the following comments regarding the event: "It wasn't even a hard choice when deciding who we wanted to ideally team with, BAMMA USA, which in our opinion is the premier MMA promotion in the USA behind only the UFC and Strikeforce. Another priority of MMA Bullring was to team with a promoter that was not a fly by night promotion. BAMMA USA has three proven years of increasing success, why reinvent the wheel, just team with the best." Brett Roberts, CEO of BAMMA USA, added by saying, "BAMMA USA has a unique opportunity to bring our promotion to an area with a built-in fan base at a great facility. We are looking forward to being part of a great night of entertainment."
BAMMA USA will host its amateur fight series, ALFA, by presenting an all-amateur fight card with 12 amateur fights scheduled* for the event. Some of the top MMA gyms from Southern California are participating*, including: Knuckleheadz Boxing & MMA, Millennia, Lucambio BJJ, Total Mayhem, Quest, Icon, Rebel X, Team Kicks, Kemo's Fight Factory, Total MMA Studios, Reign Training Center and Yoshi's Garage. The McElhinney Arena on the Lake Perris Fairgrounds will see Southern California's top MMA prospects showcase their skills inside the BAMMA USA cage. MMA Bullring will provide additional activities, such as live music, mechanical bull riding, and a presentation of "Cowboy Poker".
Ticket prices range from $25 for general admission to $70 for a front row seat. Please contact BAMMA USA for tickets as well as VIP Table opportunities, by calling 714.912.8822 or visiting http://www.BammaUSA.com
MMA Bullring Presents ALFA 9
May 19, 2012
Lake Perris Fairgrounds
18700 Lake Perris Drive
Perris, CA 92571
Doors open at 3pm. Fights start at 5pm.
*=subject to change
About BAMMA USA
BAMMA USA is a Mixed Martial Arts (MMA) promotional company specializing in creating live entertainment featuring both professional and amateur combatants. Currently stationed out of Southern California, BAMMA USA promotes the area's top local talent from mixed martial arts gyms such as CSW, Knuckleheadz Boxing & MMA, Elite MMA, Kings MMA, PKG, Joker's MMA/Lightning MMA, The Bodyshop, Reign Training Center, Total MMA Studios, Ace Jiu-Jitsu, Cobra Kai, Gracie Morumbi, Cesar Gracie Jiu-Jitsu Academy, The Arena, Subfighter MMA, as well as many others. BAMMA USA is Southern California's leading mixed martial arts (MMA) organization providing the area with events monthly and opportunities to professional and amateur athletes.
Past and current fighters who have worked with BAMMA USA founder Brett Roberts include: Mike 'Joker' Guymon, Vladimir 'The Janitor' Matyushenko, Joseph 'Leonidas' Henle, Georgi Karakhanyan, Gabe 'Godzilla' Ruediger, Jason Lambert, Chad 'The Savage' George, Albert Rios, 'The Real Deal' Chris Beal, Jack 'The Outlaw' May, Jared 'The Jackhammer' Papazian, and more…
While the promotion prides themselves on their motto, "Keep Moving Forward", the ultimate passion for BAMMA USA is to create an environment in which fighters are truly valued.
Company Information Sources
http://www.BammaUSA.com
facebook.com/BAMMA USA
twitter/@BammaUSA
Personal Contact Information
Brett Roberts, CEO
info(at)BammaUSA(dot)com
714.912.8822
Jose Grau, Public Relations Events Coordinator
josegrau(at)BammaUSA(dot)com
About ALFA
Since 2011, BAMMA USA has been promoting the Amateur League Fighting Alliance (ALFA) and working under the supervision of the California Amateur Mixed Martial Arts Organization (CAMO). Through the Amateur League Fighting Alliance (ALFA) amateur fighters can expect to fight in a professional atmosphere, gain valuable experience, and potentially become another one of Southern California's next top fighters who makes it to the big leagues.
About MMA Bullring
MMA Bullring is poised to become the largest MMA Fight/Rodeo promotion company in California. Not new to MMA, MMA Bullring has partnered with MMA thoroughbreds ProFightNetwork, MMABay News, and BAMMA USA. For the first time ever, spectators will be able to see MMA fights combined with rodeo activities all taking place at the same event including Cowboy Poker, Cowboy Teeter Totter, and of course Bull Riding. MMA Bullring empowers the Mixed Martial Arts sports community by connecting fans, athletes and brands through best in class media, events and e-commerce. Their goal is to respectfully enhance and grow the MMA action sports market in authentic ways to meet the needs of current and future generations of enthusiasts. MMA Bullring set out to bring entertainment to a new level. They have several committed partners with a vast amount experience with both MMA and rodeo. MMA Bullring felt by combining sports that require so much mental, skill, and physical toughness, it is only right to see if athletes can transition their toughness to another set. Therefore the motto for MMA Bullring is "Where Toughness is Tested".
Company Information Sources
wwwMMABullring.com
twitter/@MMABullring
Personal Contact Information
Roxana Greenman, Ph. D., COO
Roxana(at)MMABullring(dot)com
949.933.5484
Allen Shelby, VP of Public Relations and Logistics
Allen(at)MMABullring(dot)com
909.270.8892