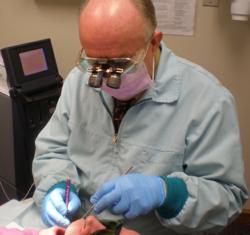 Huron, OH (PRWEB) May 17, 2012
Dr. Donald Novotny, a Dentist in Huron, OH, now offers patients LANAP (Laser Assisted New Attachment Procedure) Laser Gum Surgery that treats periodontal disease without scalpels or sutures. Despite the many studies that have reported a link between gum disease and heart disease, pancreatic cancer, and premature or low-birth-weight babies, many people remain reluctant or afraid to see a periodontist to have their gum disease treated. Traditional periodontal disease treatments can be painful and invasive.
Traditional treatments for gum disease are often feared because they involve invasive procedures using scalpels and sutures. In order to remove the disease from the mouth, the dentist is required to cut the gums and clean the area around the root of the tooth. The diseased gum tissue is then trimmed away, leaving only healthy tissue. The gums are then sutured back in place. Pain after the procedure has been reported to be moderate to severe, with many patients taking days off of work in order to recover. And, because the gums are trimmed, many patients report a lower gum line post-surgery, which leads to aesthetic issues as well as an increased sensitivity to hot or cold.
The LANAP Laser Treatment for gum disease allows Dr. Novotny to treat his patient's gum disease without cutting or sutures. This laser alternative to dental gum surgery does not use a blade, instead it zaps away the bacteria that causes periodontal disease using wavelengths of light that can tell the difference between diseased and healthy tissue. The procedure causes very little gum recession and very little discomfort for the patient. With the LANAP Laser, Dr. Novotny is able to treat periodontal disease before it leads to tooth and bone loss but without the pain associated with traditional surgery. This minimally invasive procedure is the first FDA cleared laser treatment for gum disease and has been shown to provide measurable, predictable results.
A leading dentist in Ohio, Dr. Donald Novotny has been extensively trained to provide his patients with the latest in state-of-the-art procedures such as Lumineers, Invisalign, dental implants, and LANAP.
Dr. Donald Novotny graduated from Case Western Reserve in 1978 with his dental degree and purchased a small practice in Huron, OH. His background in laser physics lead him to research and eventually be trained on the LANAP Laser Treatment in 2003. He was the first dentist in the area to introduce LANAP into his practice and remains the only LANAP doctor within 50 miles.
You can visit http://www.LightTouchDentistry.com or call 567-623-7611 to learn more about LANAP or dental implants. Dr. Novotny's office is located at 3307 Cleveland Road, Huron, OH.