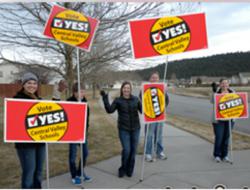 After using the Political Poles to display our signs at a recent Tea Party rally, I will make sure no one I know attends a future event without one. Amazing product….we love it!"
(PRWEB) May 16, 2012
Liberty Lake, WA: Andersen Holdings LLC announces the launch of the Political Pole. The Political Pole is the ultimate tool in making your message unforgettable. By allowing your message signs to rise high above the crowds as well as motion enhanced (spinning sign), you are sure to leave an unforgettable impression.
Developed over the past year in Liberty Lake Washington, the patent pending Political Pole is now being released to market in May of 2012. The Political Pole has a unique spinning bracket and adjustable height pole that can accept nearly any sign face. This new tool is destined to be the go-to option for any activist or rally attendee. This product extends the amount of time one can effortlessly display a sign and simplifies elevating and swinging nearly any size sign high above the crowds. This is the must have visibility tool for political themed events of all types, rallies, union demonstrations, or even for street side promotion of local candidates to ensure maximum constituent exposure. Guerrilla Marketing……..meet the political world.
"After using the Political Poles to display our signs at a recent Tea Party rally, I will make sure no one I know attends a future event without one. I have even asked Political Pole to be present with a demonstration table at our upcoming Celebrating Liberty Festival. Amazing product….we love it!" Tim Selaty Sr., President of the Restoring America Project
The Political Pole can be mounted several ways to your signs to achieve an upright oriented swinging motion as well as to allow full spinning. The spinning mount option can be compared to and is inspired from the guerrilla marketing form of sign spinning; also known as sign twirling, shaker boarding, or sign flipping. This pole mounted sign attachment takes all of the weight off of the user's arms and allows for larger and more creative sign shapes and sizes to be actively displayed all day with minimal energy output. The upright oriented swinging use allows the extension poles to make the signs take on eye captivating motion from a simple and easy flick of the wrist. This even allows a short person in the middle or back of a crowd to dominate the visual experience of the event with their signs, something not possible without a Political Pole. We are now the clear leader in Equal Opportunity Exposure.
To learn more, visit http://www.PoliticalPole.com or our YouTube channel at http://www.youtube.com/PoliticalPole PoliticalPole.com has already signed up several strong advertising affiliates and is currently recruiting more. Email Affiliates(at)PoliticalPole(dot)com or call to find out the exciting details on this program. Andersen Holdings LLC created this American conceived, developed, and produced product to ensure that everyone can stand out in a crowd. Only in America can we come up with such a way to ensure that everyone has the opportunity to be seen and remembered in such a dynamic way.