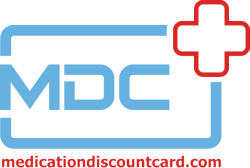 In these tough economic times, we are well aware of how important every cent is to American families.
Margate, NJ (PRWEB) May 16, 2012
Users of the Medication Discount Card can now enjoy a wealth of valuable savings on some of the most commonly-prescribed and vital treatments in health care today. Health care consumers can log on to the Medication Discount Card's website at http://medicatondiscountcard.com to discover valuable, money-saving coupons on the prescriptions they need to stay healthy.
"In these tough economic times, we are well aware of how important every cent is to American families," Jeremy Duboys, President of MDC said. "The Medication Discount Card is very proud to help provide these valuable savings on much-needed prescriptions to healthcare consumers everywhere."
In order to receive these coupons, consumers should navigate to the medicationdiscountcard.com website and search for their needed medication. If a discount is available, they can print it at no charge.
The program encompasses some of the most common and necessary medications on the market today. Some of the Medication Discount Card savings include:
Coupons for Viibryd - A valuable treatment for depression.
Coupons for Vyvanese - Used to treat Attention Defecit Disorder
Coupons for Lo Loestrin Fe - A birth control medication.
Coupons for Advair - Used to treat asthma and COPD (Chronic Obstructive Pulmonary Disease).
Consumers can receive a 14% discount off the listed price for these four common prescriptions, and can also find valuable savings on hundreds of other medications on the medicationdiscountcard.com website.
In addition, card holders can also use the Medication Discount Card to receive savings (ranging from 10-75%) on all FDA-approved medications. The Card requires no time-consuming paperwork or lengthy application process; there are no fees, no health restrictions, the Card never expires, and is accepted at almost every major pharmacy in the United States.
The Card offers valuable discounts on medications not covered under the typical insurance plans. These could include appetite suppressants, antacids, contraceptive devices and other birth control options, cosmetic drugs for hair growth and wrinkles, immunizations and vaccines, smoking cessation prescriptions, nutritional supplies and many more.
The Card also boasts a much higher rate of savings for the consumer than other medical discount cards. On average, in 2011 Medication Discount Card users saved 60.04% off the regular price of their medications – higher than the Mobile RX Card (47%), Coast to Coast RX (39.5%), AARP / Walgreens (28%) and CVS Caremark (24%). Purchasers of brand-name drugs who use the Medication Discount Card are also eligible to receive rebates (generally from $5-$25) for their purchases. These rebates are passed back to Medication Discount Card-holders through a handy MasterCard Debit Card, which is instantly refilled once a consumer is eligible for a new rebate.
The Medication Discount Card can easily be printed out online at the Card's website at medicationdiscountcard.com. Consumers can also locate nearby pharmacies that participate in the Medication Discount Card plan, and can check how much they can save on their current medications by using the Card.