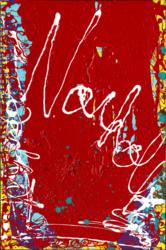 (PRWEB) May 16, 2012
Artist Jack Armstrong was called "The Last Wizard" by his mentor Andy Warhol. Critics rave about Armstrong's 'Cosmic Extensionalism' style featuring intense texture and color, saying the art begins where Pollock and de Kooning stopped. Jack Armstrong is the only living artist whose work has commanded $1 Million without using a gallery or any other intermediary. Armstrong's works have been privately purchased by renowned US and international collectors and currently sell for $600,000 to $6 Million each. http://www.jackarmstrongartist.com
Armstrong is now offering all licensing rights to his signature work "Warhol Naked" for 100 years for the price of $50 Million. The offering includes immediate rights to the production of 1,500 serigraphs of the work which will be artist-signed. The serigraphs can retail for $60,000 a piece, generating up to $90 Million -- an outstanding return to the rights holder.
The offer does not include the original painting "Warhol Naked" which is for sale separately for $6 Million. However, the rights holder is entitled to worldwide branding and distribution opportunities in fashion, autos, hotels, sports, entertainment, luxury goods and design. The potential is limited only by the imagination and, thus, poised to generate an extraordinary revenue stream.
Jean L. Tardy-Vallernaud (Founder and Managing Director of Gainsborough Capital, LLC) is co-agent for the offering. An advisor to private investors and collectors of fine art and antiques, Tardy-Vallernaud explains, "There are two elements to the offering. First and foremost, this is a financial transaction with potential for great return. There is also the critical aesthetic component - the belief in the quality and appeal of the work itself."
Robert Star, CEO of StarGlobal International Inc, also co-agent for the offering, states, "Jack Armstrong is the art rebel of this century. He recently partnered with Harley-Davidson and created the Cosmic Starship Motorbike. That work is on sale for $3 Million".
Tardy-Vallernaud adds, "This investment is an instance where the passion for the art coalesces with the financial imperative. It is a wonderful opportunity to bring art and finance into harmony that has never before been presented."
Co-Agent: Jean Tardy-Vallernaud (310) 277-0803 http://www.gainsboroughcapital.com
Co-Agent: Robert Star (310) 909-3955 http://www.starglobalintl.com