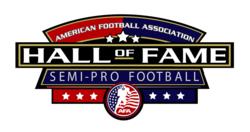 Binghamton, New York (PRWEB) May 17, 2012
The American Football Association's Hall of Fame selection committee has completed its annual task of reviewing personal profiles of qualified individuals nominated for induction into the Semi-Pro Football Hall of Fame as the "Class of 2012". Information submitted by HOF alumni and subsequent review by the selection committee resulted in the selection of 18 people for enshrinement this year.
This year's group of Hall of Famers will be enshrined as the "Class of 2012" during the AFA's 32nd Annual Semi-Pro Football Hall of Fame Induction Dinner at the Pro Football Hall of Fame, 2121 George Halas Drive NW, Canton, Ohio 44708. The Induction Dinner will be part of a 2 day event for the AFA National Association, which will run from Thursday, June 28th thru Friday, June 29th. There will be a special acknowledgement this year of all inductees from the 1980s & 1990s as well.
This year we are especially honored to induct Derek Stingley and Tyronne Jones, both players from Arena Football who got their start at the semipro/minor league football level. Derek Stingley started his career with the semipro Louisiana Bayou Thunder and subsequently went on to the Arena Football Albany Firebirds. In 2008 he was named Arena Football 2 Head Coach of the Year. Derek still holds several semipro football records and is currently coaching with the Pittsburgh Power. http://en.wikipedia.org/wiki/Derek_Stingley
Tyronne Jones started his career at the semipro level with the New Orleans Hustlers (AFA) and subsequently started his Arena Football career with the Nashville Kats, New Orleans VooDoo and then the NFL's Indianapolis Colts. http://en.wikipedia.org/wiki/Tyronne_Jones
We are also very proud to announce that Don Jonas, AFA Hall of Fame Class of 1983 will be our guest of honor at Thursday's Huddle Cocktail Party to share some of his experiences!

Events Scheduled:

Sports & Celebrity Memorabilia Auction (see listing below)
Annual AFA/HoF Legends - meet & greet the new inductees "Alumni Huddle Cocktail Party - 7pm Thursday, June 28th (Special Guest - Don Jonas, Class of 1983)
AFA Board of Directors Meeting (closed) - 10am Friday, June 29th
Pro Football Hall of Fame Museum tours at your leisure; Discount on all purchases in Hall of Fame Store
32nd Annual AFA Semi Pro Hall of Fame Induction Dinner - (Cocktails 6pm) 7pm Dinner Friday, June 29th.
The American Football Association is proud to present the names of those who will be enshrined into the AFA Semi-Pro Football Hall of Fame as the "Class of 2012" (names in parentheses indicate sponsors of the new inductees):
Players Category:

Simeon Hendrickson - Lombard, IL - (Mal Yarke, Elmhurst Travelers, Don Busch, Larry Schmidt, Jim Bejna, Jerry Schropp, Neal Andersen, Andy Tranchita)
Ralph Pina - Raynham, MA - (Peter O'Kane)
Al Countryman - Theresa, NY - (George Ashcraft)
Lawrence Pollic - Ballston Spa, NY - (Alvin Lollie)
Dave Fleck - Schenectady, NY - (Tom Manny)
Erik Taylor - Irving, TX - (Greg Skowronski)
Derek Stingley - Baton Rouge, LA - (Dave Burch)
Tyronne Jones - Marietta, GA - (Keith Ballard)
Howard Hoy - Frederick, MD - (Stephen Oldt, Dave Bonsell)
Gary Hughes - Glen Allen, VA - (Bob Yurachek)
Don Kempf - Olmsted Twp, OH - (Paul Takach, John Companey)
Leon Burch - Chicago, IL - (Thomas Robinson)
Pat O'Toole - Weymouth, MA - (Larry DeVoe)
Clayton "CC" Cowling - Indianapolis, IN - (Jim Stamper)
Executive Category:

John P. Zafiris Jr - Billerica, MA – (Cheryl Kardas)
Tom Hawkins - Burlington, WI - (Jordan Kopac)
Chad Fauson - Chambersburg, PA – (Chazz Brown)
Coaches Category:

Joe "Duke" Collins - Canton, MA – (AFA Alumni)
The enshrinement of this year's class of 18 new hall of famers will see the 32-year total number of inductees expand from 653 members to 671 members. Since the inaugural enshrinement in 1981 (including the Class of 2010) the AFA has recognized 384 players; 101 coaches; 85 executives; 29 officials; 23 pioneers; 20 media/historians; 13 trainer/equipment men; 6 associated with youth football; 5 involved with international semi-pro; 4 from the women's level; and even 1 'super fan.'
Since this event has now sold out, it will be webcast at the following link:
http://www.steveweedproductions.com/AFA.html
This year as part of our event fundraiser, we are soliciting sponsors and raffle items in advance. Sponsors and donors will be acknowledged during our live hall of fame internet broadcast, will be listed in our souvenir program and posted on our event banner. Just click the form below to make a donation/become a sponsor... http://www.americanfootballassn.com/forms/sponsorship-form.pdf or use our social media link http://fundly.com/s/e30t5f21.