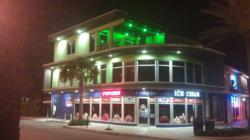 "I see the same structural and MEP issues of which potential building owners should be aware and address before purchasing an older building and completing a 40-year recertification if that is the case," says Danto Builders' owner and CEO.
FORT LAUDERDALE, Fla., (PRWEB) May 22, 2012
Danto Builders educates real estate buyers about the critical buying process for older buildings. It first entails having a qualified Florida Registered Professional Engineer evaluate the structural and electrical integrity of the building. The property must be assessed prior to the purchase, so issues and associated costs can be identified. Danto says, "I see the same structural and MEP issues of which potential building owners should be aware and address before purchasing an older building and completing a 40-year re-certification if that is the case."
Danto Builders is a fourth-generation licensed, bonded and insured general contractor with extensive experience in structural and electrical property inspections, repairs, major interior and exterior renovations, and concrete restorations. Danto Builders has completed many inspections of older buildings, as well as the 40-year re-certifications.
Danto Builders' renovation project, called Sand Kastle, is a case study which supports this critical process. This building was built in 1951 and was purchased in 2006. The building is very special to the area and the owner. It is part of the original Fort Lauderdale strip and a nostalgic place for the owner; an apartment that he used to rent as a young man.
"Buyers of commercial buildings must understand the critical structural and MEP (Mechanical, Electrical & Plumbing) items that must be properly inspected on any building before buying it," says Danto Builders' owner and CEO, Craig Danto. "This is especially important for an older building that is due for a 40-year re-certification required in Broward and Miami-Dade Counties. If buyers have a clear and accurate understanding of this process, they will avoid unexpected, costly and time-consuming mistakes, and the re-certification process will go smoothly."
The new owners were excited to get started with the renovations, so they met with Danto Builders to discuss the scope of work and a budget. The owners did not have a building inspection completed by MEP and structural engineers, so Danto Builders inspected the property for critical items. Unfortunately, it was quickly realized that the building needed to be rebuilt in place; the structural integrity was grossly compromised and a serious safety issue.
The scope of work drastically changed and required concrete restoration and replacement of all the structural column supports from the grade beam up through the third floor tie beam, which also required fabrication of new structural red-iron, steel window headers and sills to support new impact windows.
Not a structural safety issue but important to the exterior condition, the stucco was never bonded properly to the block, which causes the stucco to crumble off the building and not allow for proper painting that will last. The stucco had to be chipped away, bonded, scratch coated and re-applied. Along with the stucco, all of the overhang soffits had to be removed, and new wire lath and stucco were constructed to architecturally feature rounded-edge soffits.
With respect to the MEP issues that were not identified prior to the purchase of the building, existing plumbing had to be abandoned because the underground cast iron pipes were broken and contained vegetation growth. The electrical service had to be completely redone as it did not support the building and was not to code.
The interior also had many violations, including stairway tread heights that were not equal and landings were not to code. The second and third floors and sub-floors were rotted and not level. The third floor was never even permitted. Most of the flooring had to be removed, re-supported, leveled and replaced. Additionally, the interior walls had no insulation, so they were stripped bare and rebuilt to current codes. The third floor was also officially added and rebuilt to include a patio, summer kitchen, sun / ocean-view deck and rooftop area to support a hot tub and lounge area.
In sum, all these items could have been identified if the critical process would have been followed. The owners may still have purchased the building but at least they would have known what to expect with respect to the renovations, timelines and the budget. Obviously, this project's budget and timeline significantly exceeded the original plan. The rebuilding of this property section by section was necessary, so that the city would not enforce new zoning setups. These improvements also minimized building failure and liability issues; prepared it for hurricanes; ensured code compliance, so violations and fees were avoided; and lowered property insurance premiums."
This story does have a happy ending. The owners love the new mixed-use project, which contains their beautiful beach house, and the very successful retail Pop's Corn and Yo Mama's Ice cream. Additionally, the Broward County required re-certification was completed without a hitch, and the building received a historical preservation award from the Fort Lauderdale Historical Society.
For more information, contact Danto Builders at (954) 229-2006 or http://www.dantobuilders.com.