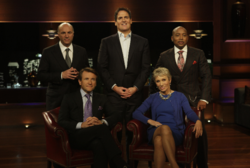 I would be ecstatic if Marc Cuban showed interest. I see what he has done in the sports and business worlds and feel the partnership would be a perfect fit for our company
Tewksbury, MA (PRWEB) May 16, 2012
For the ABC Television show that once faced cancellation, Friday's turnout in Chicago for the first of 3 scheduled open casting calls was proof that the reality series Shark Tank has grown tremendously in popularity. Producers of the show are on a nationwide search to discover America's most successful entrepreneurs, inventors, and innovators.
Aspiring entrepreneurs had an early taste of what it takes to be a Shark, when the show's producers adjusted the game plan and reduced the three person panel of judges to just one in order to accommodate a larger than expected crowd. The proverbial saying, "The early bird catches the worm," rang true for those entrepreneurs who had registered for the casting call between 6am and 7am and were allotted a full two minutes to pitch their products and ideas. Others who arrived after 8am found their window of opportunity cut in half to one minute. Despite the early setbacks, in a true testament to the resilient nature of American entrepreneurship, participants with the innate desire to succeed adjusted their strategy and managed to impress Shark Tank producers and fellow entrepreneurs alike.
One such entrepreneur who would not let a reduced presentation time affect her chances at success was Poppy Collar founder and inventor, Beth Feeney. "After a good six hours of waiting, one minute seemed to fly by pretty fast but I used the time to get a lot of feedback from other groups of entrepreneurs after they had pitched." A local Chicago resident, Beth Feeney was at the casting call to premiere the Poppy Collar, a fashion line of sweaters with interchangeable collars and cuffs that give a single outfit multiple looks. Always the optimist, Feeney remarked, "It was so inspiring listening to everyone's stories and it was just such an exciting day because I felt like there was so much energy in the room." Feeney added that amidst hundreds of innovative products, one invention immediately caught her eye. "I thought the ZipBoard was definitely the coolest product I had seen there all day," stated Beth. "I have lots of friends who are high school football coaches. I was talking to them about The Zipboard and they all thought it was awesome. I can't believe it hasn't been invented already."
The Zipboard is the first and only retractable portable whiteboard, coming in nine sports-specific styles and a plain white version. The product has unlimited applications and can be used as an effective communication tool for coaches, teachers, the hearing or verbally impaired, or even limousine drivers. ZipBoard inventor and founder, Rob Budryk, who has hopes of becoming a great American businessman, talked about his aspirations and experiences during Friday's casting call: "I'm a big fan of the Shark Tank and when I heard about the open casting call, I immediately planned my trip out to Chicago from Boston to try and get on the show. The ZipBoard has received early support from professional sports franchises and media organizations such as the the Boston Bruins and ESPN, but I feel the exposure from the show and partnership opportunities with one of the established 'Sharks' would propel the company to the next level." According to Budryk, one particular "Shark" is especially appealing to him as a potential partner: "I would be ecstatic if Marc Cuban showed interest. I see what he has done in the sports and business worlds and feel the partnership would be a perfect fit for our company. In the one minute I was given to pitch the ZipBoard to the show's producers, I put my best foot forward. Now we wait and see."
With 22 new episodes, more than double the number of shows that aired in Season 3, the odds for entrepreneurial hopefuls like Beth Feeney and Rob Budryk are looking bright.
Shark Tank airs Friday nights at 8pm PST on ABC.