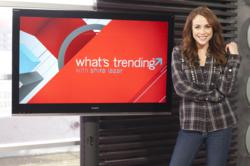 Host & Co-Creator Shira Lazar noted: "I couldn't be prouder of what we've created with 'What's Trending' and, more importantly, what's to come!"
New York, NY (PRWEB) May 16, 2012
On the heels of two Webby Award nominations and four IAWTV Awards including Best Hosted Live Show and Best Live Host, "What's Trending with Shira Lazar," the weekly live and interactive talk show, celebrates its first year anniversary with a special live program from Internet Week in New York. Hosted by digital media visionary and one of Fast Company's "Most Influential Women in Tech," Shira Lazar, "What's Trending" airs today at 12 PM ET / 9 AM PT welcoming World-Renowned Mind-body Healing Pioneer Deepak Chopra, Tumblr CEO David Karp, Reddit Founder and CEO Alexis Ohanian and YouTube stars Michael Buckley AKA "Buck Hollywood," Daily Grace and My Drunk Kitchen's Hannah Hart. Viewers can tune in by visiting http://bit.ly/iwnylive.
"Every week we celebrate the best of the web and its influencers so Internet Week New York is an obvious fit for our anniversary special, where some of the brightest minds and visionaries congregate around digital culture," said Shira Lazar, Host and Co-Founder of What's Trending. "We are overjoyed that thought leaders like Deepak Chopra, David Karp and Alexis Ohanian are joining us as we kick off year two of What's Trending. I couldn't be prouder of what we've created with 'What's Trending' and, more importantly, what's to come!"
Today, What's Trending also announced a unique partnership with the Samsung Hope for Children Gala to support and host the official live streamed Red Carpet show on June 4 from the American Museum of Natural History in New York. Through Hope for Children, Samsung works with its partners and charitable organizations headed or chosen by well-known public figures to promote their respective organizations' objectives in the areas of children's health, education and sustainability. Past celebrity attendance has included John Legend, Jennifer Lopez, Dan Marino, Demi Moore, Jason Mraz and more. Samsung and What's Trending have previously collaborated at live events such as SXSW, which helped to make Samsung the most talked about brand at SXSW.
"Our remarkable audience growth paired with the polished broadcast quality format, influential guests and social interactivity we've created has been a highly valuable opportunity for brands and partners who have worked with us," said Damon Berger, CEO of What's Trending. "We are excited to once again collaborate with the world's number one technology brand, Samsung, to support Hope for Children."
Launched in May 2011, 'What's Trending with Shira Lazar' was established as a weekly interactive live talk show and 24/7 news hub and has since cultivated an audience that drives over 100,000 video views weekly and over 12 million social impressions online.
Known as the "talk show for the digital age" and pegged the "thought leaders of social celebrity" by Forbes, 'What's Trending' has featured some of Hollywood and the Internet's biggest names including Adrien Grenier, Alison Haislip, Brittany Snow, Chris Hardwick, Drew Carey, Felicia Day, Forest Whitaker, Kevin Smith, Lisa Kudrow, Margaret Cho, Mark Cuban, Richard Branson, Seth Green, Shay Carl, Snoop Dogg, Stan Lee, Will.I.Am, Ziggy Marley and more.
"What's Trending" has also expanded its initial vision to include on-site activations from live events including the Consumer Electronics Show (CES) and SXSW and has worked with brands like AT&T, Samsung, Virgin America and others. The show is also syndicated by major platforms such as Virgin America's in-flight network "RED" and Mashable.
"What's Trending with Shira Lazar" is produced by digital studio Disrupt/Group, co-founded by Shira Lazar and Damon Berger, who formerly held senior roles at Walt Disney Company's digital studio arm, Stage 9, Twentieth Century Fox Film Corporation and Revision3.
About What's Trending
Hosted by Shira Lazar, What's Trending is a weekly live interactive talk show for the digital age and a 24/7 news hub, covering trending news from around the web and through social media, featuring guests and guest performances from celebrities and media influencers. Named one of Fast Company's 2011 Most Influential Women in Technology and Huffington Post's "Women in Tech to Follow on Twitter," Lazar has been the face of the biggest live-streams on the web including, The Oscars, The Grammys, and Macy's Fashion's Night Out, among many others. Lazar is a Webby Awards Honoree and IAWTV Winner for Best Web Series Live Host. Stay connected and join the conversation by following us on twitter @whatstrending or visiting http://www.whatstrending.com for news and updates.