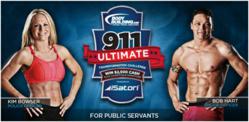 "Our civil servants do so much to keep us safe. Everyone knows it takes a strong physique to physically protect others. It's time we reward that." - Ryan DeLuca, Bodybuilding.com CEO


Boise, ID (PRWEB) May 16, 2012
Bodybuilding.com, the Internet's most-visited bodybuilding and fitness site and largest online retailer of nutritional supplements, and award winning supplement company iSatori, are recognizing civil servants (active or retired police officers, fire, state troopers, sheriffs or EMTs) who make their health and strength a priority. They are giving away $2,500 cash, one year of iSatori supplements, an iSatori spokesperson endorsement contract, a feature editorial article in a national magazine, and a feature in a national advertisement for iSatori to one lucky man and woman who have the most impressive transformation at the end of their twelve week challenge. Runner up winners will also receive amazing cash and endorsement prizes. Plus, $1 per pound of bodyfat lost will be donated to the charity of choice of anyone who finishes the competition - providing help for the future.
Not only do individuals have a chance to win amazing prizes, but everyone is provided with a free custom nutrition, training and motivational guide led by Bodybuilding.com. Weekly personal emails provide entrants with exclusive deals and words of advice to keep motivation high and help along the way. This interactive, revolutionary approach ensures every transformation can be a long-lasting success.
Individuals have until May 31, 2012 to register for the 911 Ultimate Transformation Challenge. Upon registration, their official twelve week transformation begins. At the end of the twelve week challenge two grand prize winners and four runner up winners will be chosen based on the following criteria: physical improvement according to "before" and "after" photos and contestant's ability to achieve their fitness goal according to the goal they set out to achieve at the beginning of the contest.
"We are excited to partner with iSatori and to be able to offer yet another amazing transformation challenge. Our civil servants do so much to keep us safe. Everyone knows it takes a strong physique to physically protect others. It's time we reward that." - Ryan DeLuca, Bodybuilding.com CEO
For more information on the Bodybuilding.com - 911 Ultimate Transformation Challenge, please go to http://www.Bodybuilding.com/May.
Bodybuilding.com offers more than 13,000 health & fitness supplements and accessories to help more than 13 million people every month achieve their health, fitness and appearance goals, as well as over 35,000 pages of FREE information, including more than 20,000 articles and videos, expert online trainers, and new content added daily.