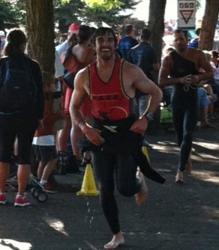 Being more connected with your surroundings while at the same time getting the motivational benefits of music is all you can ask for out of a pair of athletic earphones.
-Andy George-
Boise, ID (PRWEB) May 17, 2012
Not one mile, not two, but more like 26. Numbers have never set back marathon runner Andy George—even in an intense Ironman triathlon. But, earphone issues led him to frustration when he turned to tunes during training.
George's passion for running didn't completely take off until after college graduation, but after that it was all about marathons. He turned to the earHero sound system after going through about two pairs of jogging headphones a year.
"I got sick and tired of adjusting them during runs," he said.
Last year, George participated in an Ironman triathlon: consisting of a 2.4 mile swim, a 112 mile bike ride and a 26.2 mile run. In April, he ran his fourth marathon in Eugene, Oregon.
Even with an injury about seven weeks before the Eugene marathon, he trained and still ran it.
Since George bikes in the same direction as car traffic when training, he was nervous about wearing headphones and zoning out on cars behind him.
"I was amazed just how well you could hear the ambient sounds," George said. "Cars, my own breathing and foot falls, it's great to be aware of all these things."
Earphones can't promise safety, but earHero earphones make it a priority.
Without the ability to hear environmental sounds such as approaching traffic, Environmental Isolation is created.
Not only do earHero earphones make these sounds available to take the dangers out of music use, it also puts comfort on the forefront.
George also said adjustment of the earHero earphones has never been an issue, along with ear fatigue. Ear discomfort can result from overuse of earphones.
"If for no other reason, I'd buy them again just so I wouldn't have to continually adjust and shove the ear buds further into my ear during a run," George said.
As with any exercise pushing toward goals is key, and music can help with that. Especially when safety can come into play as well.
When asked if George recommends earHero to other athletes, he replied: "Absolutely! Being more connected with your surroundings while at the same time getting the motivational benefits of music is all you can ask for out of a pair of athletic earphones."
Format-Ready Info:
earHero earphones are a proprietary and patent pending product. Products and information are available at http://www.earhero.com.
About the audiologist inventor: Matt Murphy knew that standard earphones were unsafe due to Environmental Isolation. He created a product that would allow people to listen to music while maintaining awareness of sounds around them. Murphy not only invented this safe sound system, he uses it in his workouts and so does his family.
"The earHero earphones do not seal the ear so the sound pressure is released and the outside sound is allowed to enter the ear," Murphy said.
Murphy is a clinical audiologist with a private practice in Boise Idaho. Murphy and his wife Mali are audiologists. They are members of the American Speech and Hearing Association and own the House of Hearing Audiology Clinic. The clinic is a family business that was started in 1974, http://www.houseofhearingclinic.com.
Murphy specializes in testing and fitting of the latest hearing aid technology. He is dedicated to helping seniors with all of their hearing needs, and founded earHero Sales, Inc., http://www.earhero.com. Murphy developed the earHero line of earphones that allow the user to listen to music or two-way radio and maintain constant awareness to environmental sounds.
Contact Murphy directly at matt(at)earhero(dot)com.
Dara Barney contributed to this press release.