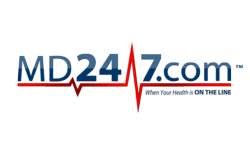 Visit MD247 online.
Tampa, FL (PRWEB) May 16, 2012
In a drastic move to protect the health and wellness of its telemedicine program members, MD247 issued an official retraction of its March 26, 2012 nationally distributed press release. The health and wellness press release entitled "Telemedicine Specialist MD247.COM Provides Female Program Members with Information about Heart Attack Symptoms."
The March 26, 2012 press release detailed the symptoms a woman might experience when suffering a heart attack, and was meant to serve as an informative and direction providing guide for female readers. The MD247 team determined that it was preferable to have program members contact the 24/7 Talk to a Doctor Hotline, or the 24/7 Talk to a Nurse Hotline to discuss non-emergency questions regarding potential cardiac symptoms.
MD247 reminds all readers that the telemedicine program is unable to address medical emergency questions, and any/all such questions must be directed toward local immediate emergency assistance.
Largo Florida based MD247.COM (MD247; MD/247; MD 247; M.D.247; MD-247) provides an affordable telemedicine supplement to existing healthcare services. MD247.COM telemedicine program members have unlimited telephone access to a nationwide medical support team, all with just a single phone call to the MD247.COM telemedicine Talk to a Doctor/Talk to a Nurse Hotline. MD247.COM has a virtual platoon of registered nurses; board certified physicians and a support staff available to members for all non-emergency situations. More information about MD247.COM is available online at http://www.md247.com.