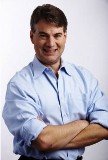 "My workshop will offer you a clear approach to wealth building through real estate by using hands-on, detailed strategies and techniques proven effective by many investors in all areas of the country and in any market conditions
Austin, Texas (PRWEB) May 16, 2012
Phill Grove, the Founder and President of Love American Homes and Hippie Hollow Homes of Austin, Texas, real estate companies that have combined to participate in well over 1,200 real estate transactions since 2003, is hosting a Free Financial Freedom workshop on Wednesday, May 16, 2012, at the Hilton San Antonio Airport at 12:30pm and 6:30pm. The event is scheduled to last for about 2 hours and is free to the public. For more information about the event, please visit http://www.reimaverick.com/Big-Live-Event-SA.
This week Phill Grove announced that he was launching his 'All In One Done For You' Real Estate Program and is holding a corresponding training this weekend in San Antonio, Texas. The purpose of the Free Financial Freedom workshops is to give people who haven't heard of him yet an opportunity to meet him and hear what he is all about.
The Financial Freedom Workshops are a series of 2-hour Free Workshops that reveal the top 12 real estate investing strategies used by Phill Grove and other wealthy investors. In addition you'll learn how you can channel your desire for wealth and use it to your fullest potential with actual money-making actionable steps.
"My workshop will offer you a clear approach to wealth building through real estate by using hands-on, detailed strategies and techniques proven effective by many investors in all areas of the country and in any market conditions," says Mr. Grove. "With detailed, step-by-step action plans in plain English, we help you identify the right opportunities and educate you on how to capitalize on them."
To learn more about Phill Grove, please visit his official blog at http://REIMaverick.com
About Phill Grove: In addition to owning and running two profitable real estate companies that have participated in over 1,200 real estate transactions in the past 8 years, Phill Grove is also an active member of the Texas real estate investing community. Phill helped establish the Texas Association of Real Estate Investors (TxREIA), a statewide association created to promote ethical standards in real estate investing. Phill has lobbied the Texas legislature for favorable treatment of investors. Locally, Phill is active in the Austin real estate clubs as a board member of the Austin Real Estate Investment Club (REICAustin) and the President of the Austin Real Estate Networking Club (Austin RENC) – the largest investment club in Central Texas.