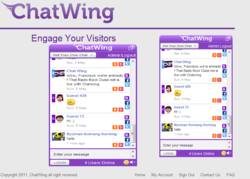 Dallas, TX (PRWEB) May 16, 2012
BranchOut, one of the hottest social sites for professionals and job seekers, is now a trending source of discussions in Chatwing's free chat box. BranchOut professionals have chosen Chatwing because of its speedy connection. Chatwing's developers have also seen the growth of the BranchOut community and they intend to help aspiring professionals connect to the world.
Chatwing is all about the global empowerment of website chat. The widget is built for communication, better blogging, and enhanced information delivery. This is useful for professionals who need to know a lot of people. Online sellers and buyers can also benefit a lot from Chatwing in just simple clicks. Since Chatwing is a versatile chat tool, it is completely adaptable to different online communities. Lately, Wordpress bloggers have been using it in order to reach a larger audience. BranchOut people are also using the Chatwing tool to find new contacts who can give out leads for jobs and other opportunities.
The Chatwing development team has also observed that blogs with Chatwing have gathered more than eighty percent spike in online visibility. This is useful in chatrooms for aspiring bloggers who are making a name in the industry. One of the strongest factors that have contributed to this visibility is Chatwing's Facebook integration feature. Through this, guests and visitors can log in using their Facebook accounts. This simply means that people can now send out invitations to each other. Other chatrooms have also used Facebook integration, but their connection speed dwindled. Chatwing's platform operates with stability because its developers are working round the clock to make it efficient.
Installing the Chatwing shout box also doesn't take much time. The user must first register his blog or website's domain name. Chatwing offers a customization phase wherein the user can modify the height, width, color, and title of the widget. After embedding Chatwing to a blog, it will go live in just few seconds.
About Chatwing.com
Chatwing.com has developed live chat software for websites and blogs. It caters to different online communities due to its high rate of connectivity. Everyone can create a customizable live chat widget in 1 minute or less. Users have the ability to customize the size, color, and fonts of the chat product. The ability to chat via social media accounts such as Facebook and Twitter enable Chatwing to offer a personal and unique real-time experience to all sites. Chatwing is 100% free and very easy to use.