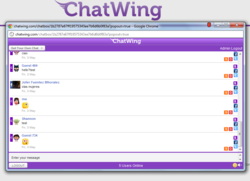 Providence, RI (PRWEB) May 16, 2012
Fictionpress has served a lot of aspiring writers for many years now. This is based on the reviews and Internet data collected by the Chatwing development and research team. Chatwing's developers have recently launched a reliable chat widget that can help short story writers connect to the world and their colleagues. Moreover, bloggers can now take advantage of Chatwing's chat widget communication tool.
Since Chatwing is a tool that supports blogs and websites, it operates on a basic platform. There is no need for complicated commands and programs to be downloaded. It is evident that many people prefer simple applications over chatrooms that are really complex and time-consuming. Lately, a lot of Fictionpress writers have subscribed to Chatwing. "It is really efficient. I can now invite other people to visit my blog and check out the stories I have written. Plus, I don't need to pay for anything. I can market my blog as often as I like. I can also meet new friends and other writers too," Commented by one of the writers from Fictionpress.
Chatwing has also introduced a Facebook integration feature, allowing users to log in with their Facebook accounts. Twitter is also accepted. This means that Chatwing users can now expand their social horizons by more than eighty percent. Chatwing's developers have noted that blogs with Chatwing have an improved rate of visibility. Chatwing's shout box doesn't do that in a snap—the visibility builds up as people continue to visit the blog. Since Chatwing is adaptable to different online communities, it can really turn a blog into an active chatting lounge filled with different topics.
To ensure maximum potential, developers are advising Chatwing users to modify the appearance of their widgets. If their widgets are synchronized with their blogs, more visitors will be enticed and the online visibility will become stronger in the long run. In the latest version of Chatwing, its developers are promising to push website chat on a new level.
About Chatwing.com
Chatwing.com has developed live chat software for websites and blogs. It caters to different online communities due to its high rate of connectivity. Everyone can create a customizable live chat box feature in 1 minute or less. Users have the ability to customize the size, color, and fonts of the chat product. The ability to chat via social media accounts such as Facebook and Twitter enable Chatwing to offer a personal and unique real-time experience to all sites. Chatwing is 100% free and very easy to use.