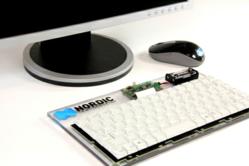 NXP's Cortex-M0 microcontroller was simply the best choice – delivering the high-performance system capabilities necessary to implement Bluetooth low energy, while meeting our stringent low-power requirements
Eindhoven, Netherlands and Oslo, Norway (PRWEB) May 16, 2012
NXP Semiconductors N.V. (NASDAQ: NXPI) today announced that Nordic Semiconductor has selected NXP's low-power LPC1114 microcontroller in its latest Bluetooth® low energy reference designs. Based on the energy-efficient ARM® Cortex™-M0 processor, the NXP LPC1114 is featured alongside Nordic's nRF8001 Bluetooth low energy connectivity IC in the nRFready µBlue™ Desktop reference design for wireless mouse and keyboard. Nordic's reference design delivers over a year of battery lifetime for the wireless mouse, and up to 10 years for the keyboard, from a single pair of AA batteries.
In addition, Nordic has introduced the LPC1114 Cortex-M0 microcontroller in its nRFready µBlue Smart Remote reference design for remote control of connected TVs and set-top-boxes. Bluetooth low energy technology enables a new ecosystem of battery-powered devices to interact with Bluetooth Smart Ready hosts, such as mobile phones, tablets, PCs, TVs and STBs, without the penalty of a large reduction in battery life. The ecosystem is expected to expand significantly within the next two years: ABI Research predicts that 2 billion Bluetooth-enabled devices will ship in 2012 and 3 billion in 2014.
"After an extensive comparison of popular low-cost microcontrollers, we concluded that NXP's Cortex-M0 microcontroller was simply the best choice – delivering the high-performance system capabilities necessary to implement Bluetooth low energy, while meeting our stringent low-power requirements," said Thomas Embla Bonnerud, director of product management, Nordic Semiconductor.
In the nRFready µBlue Desktop reference design, the LPC1114 microcontroller senses user inputs such as keystrokes, and controls and communicates with Nordic's nRF8001 Bluetooth low energy connectivity radio, which transmits data wirelessly to a Bluetooth Smart Ready smartphone or PC. In the Smart Remote reference design, LPC1114 performs multi-tasking by detecting multi-touch inputs, sensing QWERTY keyboard strokes, calculating the 6-axis gyro inputs, and controlling the nRF8001 Bluetooth connectivity IC. Compared to typical Bluetooth solutions, the nRFready µBlue reference designs significantly reduce system power consumption at both the host and the devices.
"Nordic's nRFready µBlue reference designs are making it easy to bring Bluetooth low energy computer peripherals and other devices to market quickly, and we're pleased that our Cortex-M0 LPC1114 microcontroller is part of those designs," said Jan Jaap Bezemer, director of marketing, microcontroller business line, NXP Semiconductors. "For emerging smart system implementations, NXP Cortex-M0 brings together an optimal combination of very low power and very low cost, along with 32-bit resources that enrich the end-user experience."
Links

About Nordic Semiconductor ASA
http://tinyurl.com/6zhh7ay
About NXP Semiconductors
NXP Semiconductors N.V. (NASDAQ: NXPI) provides High Performance Mixed Signal and Standard Product solutions that leverage its leading RF, Analog, Power Management, Interface, Security and Digital Processing expertise. These innovations are used in a wide range of automotive, identification, wireless infrastructure, lighting, industrial, mobile, consumer and computing applications. A global semiconductor company with operations in more than 25 countries, NXP posted revenue of $4.2 billion in 2011. Additional information can be found by visiting http://www.nxp.com.
Forward-looking Statements
This document includes forward-looking statements which include statements regarding NXP's business strategy, financial condition, results of operations, and market data, as well as any other statements which are not historical facts. By their nature, forward-looking statements are subject to numerous factors, risks and uncertainties that could cause actual outcomes and results to be materially different from those projected. These factors, risks and uncertainties include the following: market demand and semiconductor industry conditions; the ability to successfully introduce new technologies and products; the end-market demand for the goods into which NXP's products are incorporated; the ability to generate sufficient cash, raise sufficient capital or refinance corporate debt at or before maturity; the ability to meet the combination of corporate debt service, research and development and capital investment requirements; the ability to accurately estimate demand and match manufacturing production capacity accordingly or obtain supplies from third-party producers; the access to production capacity from third-party outsourcing partners; any events that might affect third-party business partners or NXP's relationship with them; the ability to secure adequate and timely supply of equipment and materials from suppliers; the ability to avoid operational problems and product defects and, if such issues were to arise, to correct them quickly; the ability to form strategic partnerships and joint ventures and to successfully cooperate with alliance partners; the ability to win competitive bid selection processes to develop products for use in customers' equipment and products; the ability to successfully establish a brand identity; the ability to successfully hire and retain key management and senior product architects; and, the ability to maintain good relationships with our suppliers. In addition, this document contains information concerning the semiconductor industry and NXP's business segments generally, which is forward-looking in nature and is based on a variety of assumptions regarding the ways in which the semiconductor industry, NXP's market segments and product areas may develop. NXP has based these assumptions on information currently available, if any one or more of these assumptions turn out to be incorrect, actual market results may differ from those predicted. While NXP does not know what impact any such differences may have on its business, if there are such differences, its future results of operations and its financial condition could be materially adversely affected. Readers are cautioned not to place undue reliance on these forward-looking statements, which speak to results only as of the date the statements were made. Except for any ongoing obligation to disclose material information as required by the United States federal securities laws, NXP does not have any intention or obligation to publicly update or revise any forward-looking statements after we distribute this document, whether to reflect any future events or circumstances or otherwise. For a discussion of potential risks and uncertainties, please refer to the risk factors listed in our SEC filings. Copies of our SEC filings are available from on our Investor Relations website, http://www.nxp.com/investor or from the SEC website, http://www.sec.gov.