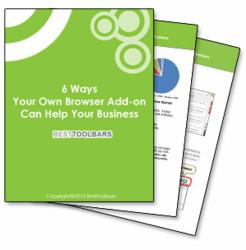 Customers who install your Add-ons use your service 47% more compared to others
Alexandria, Virginia (PRWEB) May 17, 2012
Besttoolbars recently released a free whitepaper available for instant download, titled "6 Ways Distributing Your Own Browser Add-on Can Help Your Business". The company surveyed customers who have built Add-ons, with a total of 2 million Add-on installations of more than 700 Add-ons of varying types. This statistical data helped to analyze and determine the best practices and most effective tactics that work.
According to our statistics:

The Add-on accept rate from customers who bought something is 2.3%, which means that on average 2.3% of your customers will install your Add-on.
Customers who install your Add-ons use your service 47% more compared to others.
In this guide you'll find tactics and key success factors from industry experts. The free, 17-page guide will help you better understand how an Add-on can help you:
1. Generate more leads
2. Retain customers
3. Engage customers
4. Cross-sell
5. Improve customer service
6. Learn more about your customers
Find your copy of this free, informative whitepaper at: http://besttoolbars.net/services/browser_addons_development/whitepaper/
About Besttoolbars
Besttoolbars is the largest provider of custom browser solutions. For over 10 years, Besttoolbars has been providing companies with custom Browser Add-ons, Extensions, Toolbars, and Outlook Add-ins. The company is recognized as an industry expert in integration between the web and the desktop. More than 7,000 companies are using our solutions, including Fortune 500 companies: Microsoft, IBM, Intel, Amazon, AOL, Cisco, General Electric, DHL, and more.