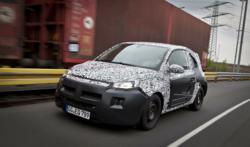 The new baby car from GM
(PRWEB UK) 18 May 2012
The new baby car from GM in Europe will be called Adam.
The name was announced today.
Further details of the three-door, four seater will be given at the Paris motor show this autumn.
Vauxhall say the name was chosen because it's the most common first name in the world and its easily understood in nearly all languages, but it's also the name of German car maker founder Adam Opel, which started making cars in the late 19th century, some 30 years before GM acquired the brand.
There is no indication of where Adam will be assembled as Opel is going through a phase of major changes with unions claiming that Astra production is to end in Germany and model lines will be moved about to maximise production capacity in particular plants, including Ellesmere Port, Cheshire.
The model is eagerly awaited by company car users and you can keep up to date with the latest breaking stories and company car news by checking Business Car Manager every day.
Barbara info(at)weboptimsier(dot)com