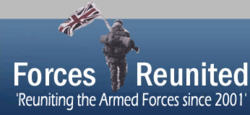 "I started the website when my father wanted to contact his old forces friends. Membership growth has been staggering, and I am delighted to see so many comrades getting back in touch with friends they served with" - founder Dominic Hayhoe
London, UK (PRWEB UK) 22 May 2012
Forces Reunited is an online community of British Armed Forces veterans and serving service personnel, which is now more than three times the size of any other UK forces community website. The site was founded in November 2001 by ex army veteran Dominic Hayhoe, with the aim of enabling as many Forces veterans as possible to reunite with each other. It also offers a range of free features such as lively forums, military news, photo galleries, discounts and ancestry searches.
The database of UK forces and ex-forces personnel is extensive, and allows members to search by unit, name, photo and even electoral roll.
The latest military news concerning the British Armed Forces is published on the site, and members participate in lively discussions on the forums as well as supporting and creating specific military campaigns and reunions. Permanent memorials and tributes can be left for a relative, friend or colleague, or for forces personnel lost in battle. Histories, photographs and memories left by other members of Forces Reunited from their time in the service can be searched by date or campaign, and contributors contacted directly.
An exclusive benefit for members is the Forces Reunited Membership/Discount Card offering discounts off a range of healthcare, accommodation, travel and shopping. Partnering sites include an Army Surplus and Camping Equipment shop; a Genealogy site; Careers site and British Armed Forces Dating site.
Membership includes access to a vast amount of army knowledge online including a Roll of Honour listing those members who died either in the line of duty or otherwise. This compliments the military genealogy service offered by sister site, Forces War Records, which contains WW2, WW1, Boer War and Crimean War military records of over 4 million British Armed Forces personnel exclusively cross matched with over 4000 Regiments, Bases and Ships of the British Armed Forces going back to before 1350.
Forces Reunited has many endorsements from high profile celebrities including patron Simon Weston; SSAFA Forces Help; the British Forces Foundation and The Duke of Westminster. Membership has increased exponentially over the past 11 years, and the website now receives more than 1.5 million views each month.