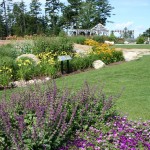 "It is one of our most satisfying pleasures to share our favorite, treasured spaces, like Coastal Maine Botanical Gardens, with our guests," said Angelo Digiulina, innkeeper at Spruce Point Inn.
Boothbay Harbor, Maine (PRWEB) May 16, 2012
At Spruce Point Inn in Boothbay Harbor, a Maine vacation offers an escape to the rugged natural beauty of the Atlantic coastline, outdoors adventures hiking through the Maine woods and a nature trail where Native American walked. A Spruce Point Inn stay also brings Maine family resort, romantic couples and other Maine summer vacation guests a special introduction to the Coastal Maine Botanical Gardens, a 250 acre reserve for plants and wildlife, especially birds.
Spruce Point Inn Resort and Spa is the recommended lodging partner for the Coastal Maine Botanical Gardens. To showcase that partnership the Inn is offering several spring and fall packages that include admission to the Gardens. In all seasons, especially during the warm days and long evenings of summer, the Gardens offer visitors the serenity, natural wonders and relaxation that only the great gardens of the world can provide. For 2012, the theme at the Gardens is "Feathers and Foliage: Celebrating Bird and Plant Interactions in Maine" giving guests the opportunity to view their collection of wild and cultivated plants through the different lens of how plants function as food and habitat for Maine birds, and how birds play an important role in the life cycle of some plants.
Throughout the summer, the Gardens present special events, learning experiences for the novice and advanced gardener, a variety of concerts, fine art exhibits indoors and out, dinners by top chefs and activities designed especially for children. In fact there is a special Children's Garden designed to introduce kids (of all ages) to their natural environment through a range of sensory experiences. Stretched along the Boothbay waterfront, the Gardens offer woodland trails and dramatic stone landscaping, formal gardens, water features and a new visitor center where many of the performance programs and lectures take place.
For the birder and the gardener – two of the pastimes most enjoyed by Americans – a Spruce Point Inn vacation must include a visit to Coastal Maine Botanical Gardens, which visitors describe as "The Miracle in Maine." After a visit, families find a new appreciation for the plants and birds to be discovered together along the Inn's woodland nature trails. The CMBG Fairy House Village also provides inspiration to add to the Inn's own fairy house collection. In addition, the Inn itself was inspired by the Gardens to enhance its own landscaping this year, expanding its colorful annual plantings and lily beds and framing its views with enhanced sightlines that also aid the growth and preservation of its trees.
Maine, Spruce Point Inn and the Coastal Maine Botanical Gardens offer visitors the chance to add some of the 423 wild bird species observed here to their lifelists. Many come to Maine exclusively for the opportunity to view breeding colonies of Maine puffins offshore in this, the only state where the birds are found. "From song birds outside the window, to migrating eagles and falcons, when visitors discover our places where 'oceanside memories made in Maine' are formed, they find our woodlands, waters and skies are filled with birds," said Angelo Digiulian, Spruce Point Inn innkeeper. "It is one of our most satisfying pleasures to share our favorite, treasured spaces, like Coastal Maine Botanical Gardens, with our guests."
For information about rates and availability and to book online for any date during the 2012 season, May 18 through October, visit http://www.sprucepointinn.com
About Spruce Point Inn (http://www.sprucepointinn.com)
In operation for more than 100 years, Spruce Point Inn is a distinctive and historic vacation destination for travelers from all over the United States. Its relaxing facilities have long been a part of the summer community and a backdrop for delightful "oceanside memories made in Maine." Located in the seafaring village of Boothbay Harbor, Maine (an hour north of Portland) and situated on 57 acres of stunning oceanfront and sheltering pine forest, the resort is a retreat of 56 modern guestrooms in eight lodges, 8 classic cottages, 9 Inn rooms and suites, and 4 townhouses. The convenient location, peaceful setting and spectacular coastal views have made Spruce Point Inn a premier resort for families, reunions, weddings and business events. For reservations, call 800-553-0289 or visit http://www.sprucepointinn.com