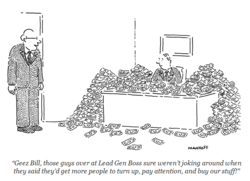 Melbourne, Australia (PRWEB) May 18, 2012
Lead Gen Boss (LeadGenBoss.com) founder Jeff Gardner announced today that they are giving away 1,000 simple online Lead Generation Machines to growth-oriented small businesses that need to generate more leads, get more customers, and make more revenue online.
Every month until August 2015, Lead Gen Boss will build and give away 25 simple Lead Generation Machines to qualifying growth-oriented small businesses. Online applications for one of these free Lead Generation Machines can be made at http://www.leadgenboss.com/freelgm
Jeff Gardner has written the acclaimed field guide entitled: "Turning Strangers Into Friends Who Give You Money – How To Get People To Turn Up, Pay Attention, and Buy Your Stuff!"
"Our mantra, mission, and promise to our customers is simple and straightforward. We'll get more people to turn up, pay attention, and buy your stuff," Gardner said.
"Most websites just don't work and many of those that do actually work a bit, are so feeble they couldn't pull the skin off a rice pudding."
"They don't provide the visitor any value. So it's no wonder these lame websites don't generate leads or make any money."
"Most people who visit sites like these wish they hadn't. They have a quick look around, turn on their heels and leave. And if they could, they'd ask for their wasted time back."
"Websites like that just waste your visitor's time and attention," Gardner claims.
"We've just released a new Whitepaper that reveals how business owners, sales managers, and marketing executives can use direct advertising principles to fix their web sites -- and get more qualified leads immediately." The Whitepaper is available for download at http://www.leadgenboss.com/resources
"We spend most of our time building Lead Generation and Sales Conversion systems, along with Direct Response advertising campaigns, for high-tech, business-to business, and manufacturing companies."
"Many smaller businesses don't need anything as complex or expensive as that, but they could really zoom ahead with a simple online Lead Generation Machine that will generate fresh leads and get them new customers, " he said.
"That's why we're building and giving away 25 Lead Generation Machines to qualifying growth-oriented small businesses every month. It's giving smaller businesses a bit of a leg up -- in the hope they'll grow and become even more successful. And maybe then, they'll buy some of our stuff later on!"
Growth-oriented small businesses can apply for a free Lead Generation Machine at http://www.leadgenboss.com/freelgm ... and the free whitepaper entitled "Why Most Websites Don't Work. How To Use Direct Response Principles To Fix Your Web Site and Get More Qualified Leads -- Immediately" is available at http://www.leadgenboss.com/resources