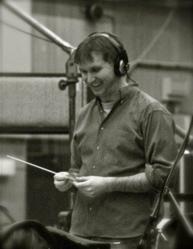 If Michael Price & David Arnold did not exist, it would be necessary for Man to invent them. Their contribution to 'Sherlock' is immeasurable. Thrilling, cheeky, sinister, playful and simply world-class…The music's not bad either." Mark Gatiss
London, UK (PRWEB UK) 17 May 2012
EMMY and BAFTA nominated Michael Price, one of the composers of BBC's worldwide hit TV show Sherlock, has released a string quartet album "4 Quartets EP" which has leapt into the classical top 10 based on Twitter and Facebook fans alone. The independently released EP, recorded by the same top session musicians who play on Sherlock, was downloaded by hundreds of fans after the news broke on Twitter. Michael celebrated the release by doing a live-streamed composing session at the piano, which quickly had over a thousand fans viewing and commenting.
The original recording session was also streamed live from the studio. http://bambuser.com/v/2386157
Commenting on the EP, Michael said, "It was wonderful to write something new and gorgeous for the brilliant string players we have on Sherlock. And amazing that so many people have responded so quickly to it. It's incredible what you can do without a record company now!"
Hear the EP: http://itunes.apple.com/gb/album/4-quartets-ep-ep/id527455968
Michael's film and TV work is still in constant demand, with his latest film, A Fantastic Fear Of Everything, a genre busting 'psycho comedy' starring Simon Pegg, opening in the UK on 8 June.
Speaking on his work on the film, Director Crispian Mills said, "Michael's score is genuinely thrilling, and features one of the most blistering brass arrangements ever."
Notes to editors: Following a successful career as a contemporary dance composer, Michael moved into films in 1996 when the late Michael Kamen invited him to orchestrate electronic sounds for the Paramount movie Event Horizon. This led to a five-year working relationship encompassing a number of highly successful film scores in London, LA and Prague, and concerts in Berlin, New York, San Francisco and Geneva. Michael has worked on a number of major films including the Academy Award winning feature Children of Men, the Lord of the Rings trilogy, comedy hit, Hot Fuzz, and Quantum of Solace.
Find out more about Michael: http://www.imdb.com/name/nm0697048/
Follow him on Facebook: https://www.facebook.com/michaelpricemusic
And Twitter: https://twitter.com/#!/michael__price