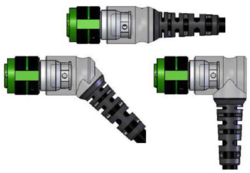 "The MMIP™ family of products represents the next generation in military interconnects."
Wauregan, CT (PRWEB) May 18, 2012
C&M Corporation, a vertically integrated manufacturer of bulk cable, coil cords, and cable assemblies has announced their participation in the Grand Opening of the new EDGE® Innovation Center at Ft. Bliss, Texas, on May 24, 2012.
One of a limited number of exhibitors invited to the event, C&M will be presenting their MMIP™ (Military Mold Improvement Platform) family of products. Already deployed in the field, notably in theatre in Afghanistan, MMIP™ cable assemblies provide a superior and more ruggedized product that performs in the harshest environments with proven reliability (0 PPM in-service failures) while delivering up to 20% space and weight savings. C&M 's design and stocking approach enable rapid order fulfillment while providing a typical cost saving of 10 – 20% when compared to conventional military cable assemblies.
MMIP™ assemblies are available with the most popular military connectors, including 38999, 5015, and 26482. The MMIP™ family includes straight, 45°, and right angle mold options in a wide selection of backshell sizes, and incorporates functional strain reliefs that provide a significant flex life advantage over similar mechanical options. In addition, C&M will be presenting their Mil-Grade wire and cable products. Made from premium materials in a controlled manufacturing operation, these cables provide consistent shielding performance, size, and appearance as compared to bench top cable manufactured from MIL-SPEC components.
C&M Corporation, headquartered in Wauregan, CT, is an integrated manufacturer of bulk cable, coil cords, and cable assemblies (both molded and mechanical). C&M offers manufacturing options in the US, Mexico, and China and produces a wide range of cable interconnect solutions for the Industrial, Multi-media, Renewable Energy, Military, Medical, Data Collection, and Datacom/Telecom marketplaces. C&M is a leader in providing engineered interconnect solutions through reliable customer service, world class quality systems, and a wide breadth of manufacturing capabilities that include bulk cable production, internal mold tool fabrication, and innovative assembly constructions.
Please contact Danielle Braley at 860-774-4812 or dbraley(at)cmcorporation(dot)com for more information or visit C&M at http://www.cmcorporation.com.