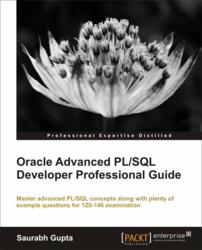 Blitz the 1Z0-146 exam
Birmingham, United Kingdom (PRWEB) May 17, 2012
Packt is pleased to announce the Oracle Advanced PL/SQL Developer Professional Guide, an ideal publication that consists of numerous example codes and practice questions using which, developers can work towards accomplishing Oracle 11g Advanced PL/SQL Professional certification i.e for 1Z0-146 exam. Readers will be able to efficiently design PL/SQL code with cursor design and subtypes.
About the Author:
Saurabh Gupta, an Oracle 11g Certified Advanced PL/SQL Professional, was an active Oracle blogger and OTN forum member and has authored more than 70 online articles and papers. His works can be noted at RMOUG SQL, PSOUG DBANOTES EXFORSYS and CLUB-ORACLE. He is a member of AIOUG (All India Oracle Users Group) and actively participates in technical meets and conferences.
PL/SQL is an imperative third generation programming language (3GL) that was designed specifically for the seamless processing of SQL commands. It provides specific syntax for this purpose and supports exactly the same datatypes as SQL. Server-side PL/SQL is stored and compiled in Oracle Database and runs within the Oracle executable. It automatically inherits the robustness, security, and portability of Oracle Database.
Oracle Advanced PL/SQL Developer Professional Guide starts with an overview of PL/SQL as the programming database language and covers its advanced features using real world examples. Readers will not only learn to implement VPD (Virtual private databases) with Fine Grained Access Control, but also use Result caching to tune PL/SQL code.
This guide will not only demonstrate tracing and profiling features but also allow them to make use of Collections and learn data caching techniques in PL/SQL programs. Users will be able to protect PL/SQL code from injection attacks and start using SecureFiles for advanced storage options.
Some of the essential chapters emphasized in this book are:
Chapter 1: Overview of PL/SQL Programming Concepts
Chapter 2: Designing PL/SQL Code
Chapter 3: Using Collections
Chapter 4: Using Advanced Interface Methods
Chapter 5: Implementing VPD with Fine Grained Access Control
Chapter 6: Working with Large Objects
Chapter 7: Using SecureFile LOBs
Chapter 8: Compiling and Tuning to Improve Performance
Chapter 9: Caching to Improve Performance
Chapter 10: Analyzing PL/SQL Code
Chapter 11: Profiling and Tracing PL/SQL Code
Chapter 12: Safeguarding PL/SQL Code against SQL Injection Attacks
Packt Publishing has also released and is due to publish other Oracle books:
Oracle JDeveloper 11gR2 Cookbook (published)
Oracle 11g R1/R2 Real Application Clusters Essentials (published)
Oracle Business Intelligence Enterprise Edition 11g: A Hands-On Tutorial (due)
All Oracle books are Published by Packt Enterprise. Packt Enterprise is a publishing division of Packt Publishing designed to serve the information needs of IT Professionals in the Enterprise space. Packt Enterprise also publishes on Microsoft, IBM, Oracle, Citrix, Java, Amazon, Google and SAP technologies.