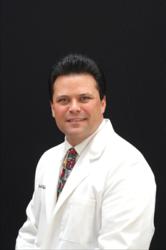 There is nothing more important than taking care of those who fight for our freedom" says Dr Day.
Las Vegas, NV (PRWEB) May 18, 2012
The top health problems for veterans returning from Iraq and Afghanistan are back and joint disorders, but currently only 20% of VA medical facilities provide chiropractic services for returning military. Proposals before Congress aim to change all that by expanding chiropractic access in all VA facilities of the US.
Meanwhile, out of a desire to serve and to fill the serious health care gap, Las Vegas Chiropractor Dr Derek Day has joined other Doctors of Chiropractic around the nation in extending an offer of free chiropractic care for one full year for any US military veteran returning from overseas deployment in Afghanistan and Iraq.
Dr Day is a strong supporter of the program which is organized by the International Chiropractors Association (ICA). "The program gives us a chance to say thank you to the men and women who have been prepared to put their lives on the line to defend our freedom," says Dr Day.
Tens of thousands of US military personnel are being rotated back to the US, many to civilian life, and others to stateside deployment. All have been subjected to exceptional physical strain, with a new pattern of injury and trauma. Regrettably, according to the ICA, the facilities offered through official channels does not usually include chiropractic treatment
"Whatever the situation for returning veterans, they need help and support from the community, including the chiropractic community" says the ICA. "Chiropractors can offer a unique service to returning veterans who are striving to recover and restore their lives physically, mentally, emotionally and spiritually."
Dr Day agrees. "The skills that we use to help people recover from car accidents, sports injuries or accidents at work can be deployed directly in the service of these veterans who have served their country in such arduous circumstances. I am just happy I can help out."
More information about Dr Day:
Dr. Day is Las Vegas native who has been practicing chiropractic care for over 15 years, having received his Doctorate of Chiropractic at Life University in Atlanta.
He is founder and owner of Anthem Chiropractic at 10170 S. Eastern Avenue, Suite 110, Henderson, NV 89052. He first established Anthem Chiropractic to help people suffering from various injuries and to disseminate information on disease prevention and proper nutrition.
Dr Day and his staff work hard to provide effectual, professional care in a friendly, team atmosphere. He makes use of up-to-the-minute techniques which reduce treatment time.
For more information go to http://lasvegashendersonchiropractor.com or call Anthem Chiropractic at (702) 614-6777. Office hours are Monday through Friday, 8:30 a.m. to 6:30 p.m., and by appointment on Saturday.