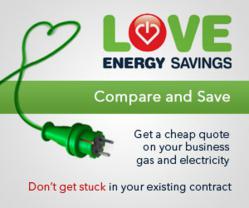 Compare business electricity prices with www.loveenergysavings.com
manchester uk (PRWEB UK) 17 May 2012
E.ON will not increase home energy their prices in 2012.The Queen has just announced the Energy Bill before parliament which holds suggestions that prices of energy will increase for all customers. However E.ON one of the major energy providers has put its five million customers at ease an claims that their prices will not rise on household energy bills this year.
Dr Tony Cocker, chief executive of E.ON UK, said: "Let me be clear - E.ON will not raise residential prices in 2012."
Love Energy Savings are proud to work alongside suppliers who are dedicated to keeping costs down for their customers. The promise the German utility giant E.ON has made shows courage through tough times as this promise comes only weeks after announcing that they were making less than 2% profit energy supplied to home users in 2011. E.ON like Love Energy Savings is committed to being transparent and fair with customers, where they can be.
Love Energy Savings think customers with decent rates now who are going to be within the price freeze for the rest of 2012 should investigate how to cut costs in 2013. Love Energy Savings will be providing tips on their website in order to help people save money on their home energy consumption and will also be offering for the not so fortunate customers, price comparisons to get them the best tariff available.
Gemma Bailey Marketing Manager of Love energy Savings said in response to E.ON's claim "Love energy savings are proud to work alongside energy suppliers who put their customers first. This claim is certainly good news for their existing customers. Love Energy Savings endeavor to always find the cheapest and best tariff for each individual customer. We aim to save people money in every area of their lives including home energy, business energy, telecoms, water and insurance. I urge people in these uncertain times and with the recent price hike indication to check if they are paying too much."
Love Energy Savings offer a free impartial service to all home users and business users to help them save money on their gas and electricity. For more information on home energy and to compare business electricity prices please visit http://www.loveenergysavings.com or call 08000932791.
Follow us on twitter to get great energy savings tips. https://twitter.com/#!/LoveEnergySavin