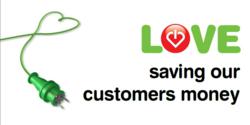 Visit www.loveenergysavings.com to compare home and business electricity prices
Bolton UK (PRWEB UK) 18 May 2012
The queen broadcasted plans for a new energy bill on the 9th May 2012. This may lead to a rise in electricity and gas bills putting strain on home and business energy users.
It was revealed that subsidies may be provided to help energy companies go green. These subsidies will be partly funded by householders through their bills in the upcoming 20 years.
The government claimed the key principles of the Energy Bill and the core objectives were to ensure that energy in the United Kingdom is low carbon, reasonably priced and is secure.
It has been suggested by critics that the subsidizations will increase consumer's energy bills by around £200 each year.
This has been a huge topic of conversation on the lips of every consumer. Respected newspapers have pulled on the information which the Queen delivered in just 15 minutes before parliament with headlines specifically focusing on the potential damage it could have on the pockets of consumers eg The Telegraph "Queen's Speech 2012: energy laws will send bills soaring" ( The Telegraph). Many energy suppliers like Eon have also jumped on the band wagon of claiming their energy rates will stay at the same prices. Love energy Savings believe comparing the market on your energy bills for your home and business is the fastest way to save money and choose the right tariff for each consumer's usage.
Love Energy Savings campaign to help all consumers get the correct tariffs for them and make savings on their bills. For more information visit http://www.loveenergysavings.com or to compare business electricity prices or home energy prices call 08000932791. Follow Love Energy Savings on http://www.facebook.com/loveenergysavings