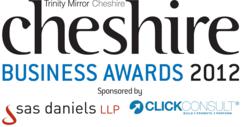 It's more important than ever to recognise success stories of businesses, no matter the size or niche. We are proud to have our brand attached to an event of this prestige.
(PRWEB UK) 17 May 2012
Law firm SAS Daniels LLP and internet marketing agency Click Consult have been announced as the major sponsors of this year's Cheshire Business Awards.
The firms, which are both executive sponsors, will play a key role in the awards with representatives on the judging panel and responsibility for presenting the awards for Medium Business of the Year and Business Person of the Year.
The awards, which are considered to be a highlight in the calendar of the region's business community, are organised by Trinity Mirror Cheshire - the organisation behind the Chronicle series of newspapers across Cheshire and North Wales
North West law firm SAS Daniels, which has offices in Stockport, Chester, Macclesfield and Congleton, is entering its third consecutive year as an award sponsor.
Nigel Haddon, chief executive at the firm, said: "Recognising the achievements of the most ambitious and hard working businesses and individuals is characteristic of Cheshire's business community. Times are still tough and many see it as important to stop for a moment and look at what, as a region, we have achieved.
"For SAS Daniels, the Cheshire Business Awards is a great opportunity to meet other businesses helping to drive the region's economy - we're delighted to be involved again."
Digital marketing and SEO specialist Click Consult won the EA Technology Large Business of the Year award in 2011 with managing director Matt Bullas voted Bentley Motors Young Business Person of the Year.
Commenting on the awards, Matt Bullas said: "It's common knowledge that we are operating in a difficult economic climate, and therefore it's more important than ever to recognise success stories of businesses, no matter the size or niche. We are proud to have our brand attached to an event of this prestige."
Key individuals and partners from both sponsors will attend on the night to meet nominees, guests and award winners.
Last year the Cheshire Business Awards attracted over 100 entries from more than 70 businesses in the region.
Carl Wood from Trinity Mirror Cheshire said: "The Cheshire Business Awards acts like a magnet, bringing together some of the most innovative and forward thinking businesses the region has to offer.
Success stories come thick and fast in Cheshire, despite the difficult economic situation, and it is a pleasure to invite those success stories to an event on this scale.
The Cheshire Business Awards 2012 will be held at Chester Racecourse on 5th October 2012. For more information or to enter the Chester Business Awards please visit http://www.cheshirebusinessawards.co.uk.
SAS Daniels LLP
SAS Daniels LLP is a leading law firm based in convenient locations across the North West including Stockport, Macclesfield, Chester and Congleton. Web: http://www.sasdaniels.co.uk
The firm is organised across five business groups: corporate, real estate, litigation, employment and private client. SAS Daniels is rated amongst the best in the region by Chambers and the Legal 500 – the two leading client guides to the UK legal profession.
Click Consult
Click Consult is a premier UK search marketing agency, specialising in a range of disciplines including SEO, PPC, Web Development & Design, Social Media Marketing and Mobile development. Web: http://www.clickconsult.com
They have an extensive client portfolio of over 350 businesses, including leading brands from a range of different industries, and are consistently named as the UK's number one SEO agency by the independent authority on search vendors, TopSEOs.
Click Consult are renowned for providing an ethical, results-driven range of services and solutions while remaining fully transparent with all of their clients.