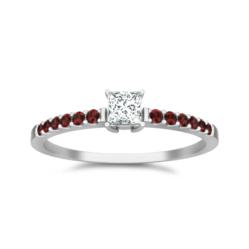 Chocolate diamond rings are proving to be very popular with women who love fancy color diamond rings
Baltimore, MD (PRWEB) May 17, 2012
Chocolate is not only for food lovers. Chocolate color diamonds have been a big hit with customers who are looking for an alternate engagement ring choice. Chocolate color diamonds have many different terms associated to them. Essentially they are Brown color diamonds. However these brown color diamonds are available in different shades and color intensity. As such, they can be referred to as Champagne diamonds, Chocolate diamonds, or Brown diamonds. JewelOcean.com has now launched an exclusive line of chocolate diamond rings, which are now available at discount prices for a limited time during the launch period.
Brown color diamonds have been mined for long time. However, there use in engagement rings was very limited. Use to brown diamonds to make engagement rings has only gained in popularity during the last decade, when major Jewelry designers showcased their new engagement ring designs with Brown diamonds. These Brown diamond rings proved to be a big hit with customers. Many celebrities have showcased their diamond rings made with brown diamonds which has further intensified this fancy color diamond market.
Following this trend, JewelOcean has launched an exclusive line of Chocolate diamond rings which are now available at affordable prices. The collection showcases beautiful Champagne diamond engagement rings, which are available in different styles. Customers can find wedding sets with champagne color diamonds, which are collection of champagne diamond rings and with matching wedding bands. The collection also showcases Champagne Halo engagement rings which can set with customers choice of Round cut chocolate diamonds or Princess cut chocolate diamonds.
The JewelOcean collection of Champagne diamond rings has already created much interest in potential customers. According to Mr. Mathew Bruno, manager at JewelOcean, many customers have pre-ordered different brown diamond rings ahead of the collection's official release. The low introductory prices of these engagement rings make them very cheap and affordable, and it is no wonder that they are proving to be a big hit at JewelOcean.
JewelOcean is a leading manufacturer of diamond rings and diamond engagement rings. The company's strength is in providing exclusive designs of wedding sets and bridal sets at discount prices. With the new launch of champagne diamond rings, JewelOcean has now added yet another major attraction to it's website. For a complete view of the engagement rings collection, please visit JewelOcean.