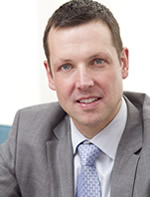 Patients will often combine chin augmentation and a necklift to achieve optimal results.
Dallas, TX (PRWEB) May 16, 2012
Dr. Andrew Trussler, a board certified plastic surgeon in Dallas, recently presented on chin and neck surgery during a webinar, co-sponsored by RealSelf® and the American Society of Plastic Surgeons (ASPS). During the online seminar, Dr. Trussler discussed the dramatic growing trend of chin augmentation surgery and answered questions from online participants.
"What inspired this event was a recent jump in the number of patient queries for chin augmentation and necklift surgery," explains Dr. Trussler. "Recently, folks have become very interested in not only what a chin implant can do, but what it can do for them." This confirms recent data from the American Society of Plastic Surgeons, which suggests that chin augmentation saw a full 71% jump in popularity between 2010 and 2011.
In response to the upcoming webinar, Dr. Trussler was also asked to appear on "The Ray Horner Show," a popular morning radio program from WAKR in Akron, Ohio. He was asked to speculate on what exactly may be driving this plastic surgery trend.
"As I explained during the webinar and on the radio, the jump in popularity may be due to an increased adoption of video chat technology," says Dr. Trussler. "Many patients are troubled with the unflattering angles of webcams, like those on cell phones."
The procedure mainly looks to correct the appearance of a weak chin and a disproportionate profile. And, as Dr. Trussler explains, "Patients will often combine chin augmentation and a necklift to achieve optimal results." Gender can also play a role. "For men, it's usually about masculinizing the jaw. For women, it's more about achieving facial harmony."
Following the presentation, Dr. Trussler invited questions from the online audience. Topics ranged from the specifics of chin augmentation to how patients can find a good plastic surgeon. "As I explained to the viewers online, one of the most important things to look for in a surgeon is board certification," concludes Dr. Trussler. "Whether you're choosing chin augmentation, necklift surgery or some other procedure, board certification is the best way to boost your chances of proper care and beautiful results."
About Dr. Trussler
Dr. Trussler, a board certified plastic surgeon in Dallas and Frisco, is highly respected and well-known. He has been featured in numerous publications including the Consumer's Research Council's "Guide to America's Top Surgeons" and was recently included in Marquis' "Who's Who in the United States for 2012."
Double board-certified by the American Board of Plastic Surgery and the American Board of Surgery, Dr. Trussler graduated Summa Cum Laude from the Keck School of Medicine at the University of Southern California. After completing his general surgery residency at the University of Michigan, he obtained his plastic surgery training at the University of California, Los Angeles and then his one-year aesthetic surgery fellowship at The University of Texas Southwestern Medical Center at Dallas.
In 2007, Dr. Trussler began his successful plastic surgery practice in a state-of-the-art facility at The University of Texas Southwestern Medical Center. He also has a satellite office in Frisco, TX. Dr. Trussler can be reached at (214) 645-3118 or http://www.drtrussler.com/.
###