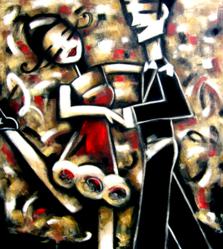 Atlanta, Georgia (PRWEB) May 17, 2012
No stranger to dancing for a good cause, Ballroom Dance Clubs of Atlanta's talented crew of professional dancers and instructors are reprising their role in this year's June 2nd Dancing Stars of Atlanta to help raise money for Alzheimer's support and research. Partnering with the Metro Atlanta Region of the Alzheimer's Association Georgia Chapter, Ballroom Dance Club's instructors hope to bring awareness to a disease that affects over 5 million Americans and 200,000 Georgians.
The annual event features prominent members of Atlanta society along with professional ballroom dance instructors. Formatted similarly to the popular television hit, "Dancing with the Stars," the fundraiser involves an instructor teaching a novice dancer for a short time before the competition. Ballroom Dance Clubs' professional dancers—Sean Emad and Michelle Rigo from the Atlanta dance studio and Michelle Grady and Joshua Ingram from the Duluth, GA studio—are participating with their local celebrity partners.
A yearly participant in the Alzheimer's fundraiser, last year Ballroom Dance Clubs of Atlanta helped bring in almost $100,000, with their celebrity partners. The dance organization also dedicated their October 2011 Motown showcase to families whose lives were upheaved by tornadoes that ripped through the Southeast last year with all funds donated to the Salvation Army. Individually, the Ballroom Dance Clubs instructors also contribute to local arts organizations and charities in their spare time.
Participants of the Dancing Stars of Atlanta are judged by a panel including Emmy-award winning journalist Kimberly Kennedy and Channel 2 news anchor John Bachman. Held at the Loews Hotel in downtown Metro Atlanta, community supporters can donate and purchase a ticket to vote for their favorite dancer in the June 2nd, 2012 event by visiting the Dancing Stars of Atlanta website.
About Ballroom Dance Clubs of Atlanta:
Ballroom Dance Clubs of Atlanta has been teaching Atlanta to dance since 1985 under the direction of award-winning directors, Kristine Knipp and Chris Woodin. With locations in Metro Atlanta , Duluth, and East Tennessee Ballroom Dance Clubs' instructors are extensively trained in ballroom dance styles ranging from the traditional (Waltz, Foxtrot, etc.) to popular social dances (Swing) and even sultry Latin styles (Salsa and Cha Cha). Coaching all levels of students—novice to competitive dancers—Ballroom Dance Clubs of Atlanta offers group and private lessons as well as open house and practice parties. Ballroom Dance Clubs won top mid-sized studio at Heritage Classic 2011 and top studio at NYC Empire State Dancesport Championship 2011. For additional information about Ballroom Dance Clubs of Atlanta visit myballroomdanceclub.com.
Alzheimer's Association
The Alzheimer's Association is the world's leading voluntary health organization in Alzheimer care, support and research. Our mission is to eliminate Alzheimer's disease through the advancement of research; to provide and enhance care and support for all affected; and to reduce the risk of dementia through the promotion of brain health. Our vision is a world without Alzheimer's. For more information, visit http://www.alz.org.