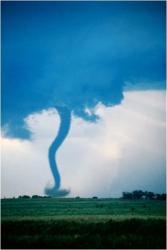 Deadly tornadoes can occur anywhere with limited warning, so it's important to be prepared.
Lincoln, RI (PRWEB) May 17, 2012
This year's tornado season got off to an early start across the South, and the National Weather Service is predicting another savage storm season after recording one of the deadliest tornado seasons ever last year.
The next few months are typically the most active for twisters, so Amica Insurance is offering some tips to make sure everyone is prepared.
"Deadly tornadoes can occur anywhere with limited warning, so it's important to be prepared," said Michael Gillerlane, a senior assistant vice president for Amica Insurance. "Make sure you have an emergency supply kit in your home with food, water and a radio with extra batteries."
It's also important to locate an emergency shelter in your community and develop an emergency communication plan with your family in case someone is separated, Gillerlane said. Also, remember to keep your cell phone charged and with you, in case of an emergency.
Most important, be aware of weather conditions that spawn tornadoes, especially powerful thunderstorms, Gillerlane said. Pay attention to news alerts:

A tornado watch means tornadoes are possible, so make sure to keep checking for news and updates.
A tornado warning means that a tornado has been sighted or indicated on radar, so it's important to seek shelter immediately.
The Federal Emergency Management Agency says warning signs of a tornado include:
Dark, often greenish sky
Large hail
Low-lying clouds, particularly if rotating
A loud roar, similar to that of a freight train
If a tornado is headed your way, stay inside and take cover, Gillerlane said. Basements are the safest place to stay. Turn off all utilities, especially natural gas or propane to avoid fire. If you don't have time to go to an emergency shelter, stay inside your home, keep away from doors and windows and head to the basement if possible.
"If a tornado does strike your community, monitor local news and weather before you head outside," Gillerlane said. "Stay clear of downed wires and evacuate the area immediately if you smell gas. Also, be careful entering any buildings that have been damaged."
If you experienced a loss, contact your insurance company as soon as possible to report the damages, Gillerlane said. Try to compile an inventory of your losses and photograph the damages to submit with your claim. And be sure to use reputable contractors for clean-up and repairs.
About Amica Insurance:
Amica Mutual Insurance Company, the nation's oldest mutual insurer of automobiles, was founded in 1907. The company, with corporate headquarters in Lincoln, RI, is a national writer of automobile, homeowners, marine and personal umbrella liability insurance. Life coverage is available through Amica Life Insurance Company, a wholly owned subsidiary. Amica employs more than 3,200 people in 40 offices across the country.
Website: Amica.com
Twitter: Amica
Facebook: Amica Mutual Insurance Co.