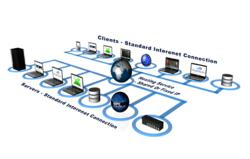 "With any standard Internet connection, customers can host live data directly from their own PCs easily and securely."
Boulder, CO (PRWEB) May 29, 2012
Today Open Automation Software is proud to announce the release of its Live Data Cloud application which harnesses the power of open standards to enable secure real-time, and historical, data hosting utilizing a standard Internet connection.
The addition of Live Data Cloud to OPCSystems.NET the Complete SCADA product eliminates the need for dedicated IP addresses and expensive hardware additions at the data source to achieve the same level of secure data access. Live Data Cloud leverages exclusive Open Automation Software technology to enable the utilization of any standard Internet / Intranet connection to provide complete enterprise access to data. This data access is available from both remote and local sites with no additional licensing fees 24 hours a day. Data security is maintained at all levels by implementing binary encryption of the communication packets and then transported over Windows Communication Foundation (WCF) technology, which provides additional encryption, and X509 certification validation. Now every company can afford to provide live accurate data to all levels of the enterprise and incorporate that data into its most critical decision making processes.
"At Open Automation Software we are continually developing new solutions which will enable our customers to share their data openly and easily. The development of Live Data Cloud is our most innovative communications feature to date since the original release of OPCSystems.NET in 2004. Live Data Cloud provides our customers with the ability to share real-time and historical data from OPC Servers, OPC Clients, databases, Microsoft Excel, and .NET applications from any Windows PC that has a standard Internet connection. Customers can host data directly from their own PCs easily and securely," said Ken Eldridge, President of Open Automation Software.
Existing users of OPCSystems.NET can update to receive the application by contacting Open Automation Software. New customers can download a demo application by following the steps in the video at the following link: http://tinyurl.com/726sm3z
For more information about Live Data Cloud, please navigate to: http://www.livedatacloud.com.
About Open Automation Software:
Open Automation Software was formed in 1993 with the vision of empowering end-users and OEMs with the freedom to create the applications they needed to truly build "best of breed" systems. Open Automation Software achieved this by providing the tools to quickly and easily develop SCADA products using Microsoft Visual Studio. The culmination of this vision was the creation of OPCSystems.NET the Complete SCADA solution. OPCSystems.NET is the flagship product for Open Automation Software and leverages OPC standards from the OPC Foundation to enable secure communications and support for Smart Clients, Web-based Clients and Server, Mobile Clients, and Mobile Devices. http://www.completescada.com
Like Open Automation Software on Facebook at: http://www.facebook.com/OpenAutomationSoftware
Follow Open Automation Software on Twitter at: http://www.twitter.com/opcsoftware
Watch Open Automation Videos on YouTube: http://www.youtube.com/user/OpenAutomation
For editorial information contact:
Ken Eldridge
President
Open Automation Software
5077 Bear Mountain Dr.
Evergreen, CO 80439
USA
ken(at)opcsystems(dot)com
For Product inquires contact:
Open Automation Software
5077 Bear Mountain Dr.
Evergreen, CO 80439
USA
Toll Free: 1-800-533-4994
International: 1-303-679-0898
sales(at)opcsystems(dot)com