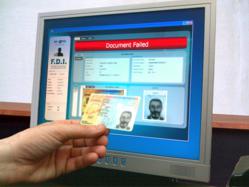 AU10TIX's FDI solution removes bottlenecks and streamlines customer onboarding and screening, while providing a fraud protection layer and saving work and material costs.
Nicosia, Cyprus (PRWEB) May 18, 2012
The AU10TIX software provides the platform for meeting Anti-Money Laundering (AML), Anti Terrorism Funding (ATF) and regulatory compliance needs, while providing enterprise Customer Relationship Management (CRM) and risk management with quality customer and document records.
The AU10TIX software includes new machine-learning enhanced FDI V6 technology, providing superior, integrated handling of multi-format identification documents and closing a critical gap in fraud-detection, document management and Enterprise Content Management (ECM).
The AU10TIX software solution is designed to be particularly attractive to banks, financial institutions, Telcos, healthcare service-providers, and government and law enforcement organizations. This solution will meet three challenges in one integrated system: The authentication of latest secure ID documents, the "hands-free" creation of gap-free quality data records, and the migration from paper-based record management to efficient eDRM (Electronic Data and record Management)
AU10TIX FDI V6 sets new standards in critical need areas:

Effective handling of multiple document formats (primary, secondary and complementary enrolment documents)
Effective handling of non-standard, off-standard and worn-out documents (where standard solutions fail)
Auto-improving accuracy with use (using unique machine-learning algorithms)
Design for seamless integration with diversified client environments and accommodation of client-specific requirements and policies.
The package of AU10TIX software solution and 3M document scanners offers a compelling value-proposition package: fraud detection at the front-end (complementing and boosting the effectiveness of back-end solutions), cost-saving (fraud damages, materials, logistics and work), operating efficiency, ECM efficiency, and improved customer service.
About AU10TIX
AU10TIX Limited, a fully owned subsidiary of ICTS International N.V, deals with the authentication and digitization of identifying documents, including: Passports, identity cards, driving licenses and other complementary identifying documents. The company specializes in implementing hardware & software based applications used for scanning, identifying and acquiring identity documents, authenticating them and their owners, in real-time. The company's products drastically reduce identity and document based fraud in organizations, reducing the costs associated with processing clients, improving compliance competence and effectiveness with related regulations, while making the sales and support operations more efficient. For more information, visit http://www.au10tix.com
About 3M
3M captures the spark of new ideas and transforms them into thousands of ingenious products. The company's culture of creative collaboration inspires a never-ending stream of powerful technologies, creating innovative products that help make the world healthier, safer and more productive. With $30 billion in sales, 3M employs 84,000 people worldwide and has operations in more than 65 countries. 3M's Security Systems Division is a trusted partner and industry leader in delivering end-to-end, innovative security solutions to businesses and governments worldwide—helping to ensure the security of people, documents and goods. 3M uses its broadband knowledge, in-depth experience and technological expertise to help solve an array of security challenges, including brand protection, product security, efficient passenger check-in, secure ID and passport document issuance and hardware and software system solutions for border management. 3M Security Systems technologies are used in more than 100 countries around the world. For more information, visit http://www.3m.com
About ICTS International N.V.
ICTS specializes in the development and implementation of innovative security concepts and solutions designed to meet the needs of a variety of industries, mainly aviation transportation, border control and sensitive facilities. ICTS International benefits from over two decades of expertise and international operational experience in transportation security, with a particular emphasis on high-risk environments, passenger processing transactions and the integration of security services to provide a comprehensive security solution. It also offers a wide variety of customized training programs, tailored procedures and a wide range of security consulting services. The company has developed and implemented unique technological solutions, based on its comprehensive approach to security, designed to enhance the level of security while accelerating the security check process. For more information, visit http://www.icts-int.com
This press release contains "forward-looking statements" within the meaning of the Private Securities Litigation Reform Act of 1995, regarding the Company's business strategy and future plans of operations. Forward-looking statements involve known and unknown risks and uncertainties, both general and specific to the matters discussed in this press release. These and other important factors, including those mentioned in various Securities and Exchange Commission filings made periodically by the Company, may cause the Company's actual results and performance to differ materially from the future results and performance expressed in or implied by such forward-looking statements. The forward-looking statements contained in this press release speak only as of the date hereof and the Company expressly disclaims any obligation to provide public updates, revisions or amendments to any forward-looking statements made herein to reflect changes in the Company's expectations or future events.
Contact:
AU10TIX
Ofer Friedman, Head of Marketing
Email: ofer(dot)friedman(at)au10tix(dot)com
Tel.: +972-50-4 71 71 50
3M Security Systems
Phil Wild, Business Director, 3M Security Systems, EMEA
Email: pwild2(at)mmm(dot)com
Tel.: +44 (0) 161 683 2436
ICTS International NV
Alon Raich + 00-972-974-47770
mail(at)ictsinternational(dot)com