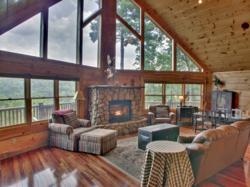 Special discounted rates are now being offered for many of their luxury Blue Ridge Cabin Rentals.
Blue Ridge, GA (PRWEB) May 17, 2012
Sharp Real Estate Services, LLC purchased Southern Comfort Cabin Rentals several years ago and is now located at 240 W. Main Street in historic downtown Blue Ridge, GA across from the Blue Ridge Scenic Railway train depot. Sharp is currently expanding Southern Comfort Cabin Rentals from 35 to a total of 50 cabins by the end of 2012. Special discounted rates are now being offered for many of their luxury Blue Ridge Cabin Rentals which can be viewed and booked on their website or by calling (706) 258-3737.
Each cabin has been decorated with a personal touch and some may include antique furnishings located throughout the cabin. Every cabin is unique and offers luxury features. May Cabins include floor to ceiling windows, in-door or outdoor porch, gas or charcoal grill, designer fire pits with benches, or an outdoor hot tub with a gorgeous mountain top or lake view. A popular choice for many vacationers is a luxury cabin appropriately named "Sunrise Destination". This beautiful vacation cabin is located in the prestigious community of Mountain Tops on a ridge line with an eastern facing view. Guests love the stunning mountain view, very stylish interior, and having so many luxury amenities to enjoy.
Blue Ridge is considered a vacation destination that is right for any season. Whether it be in the spring to experience gorgeous meadows of wildflowers; summer to play in the southern heat along the Ocoee and Toccoa River; fall to observe the Blue Ridge Mountains as it reveals bright, festive colors; or winter which is a wonderful time of year to gather the entire family and join Southern Comfort Cabin Rentals for your holiday celebration.
Activities in the Blue Ridge Mountains are endless and can accommodate guests from the young to the old. One favorite activity for almost any age is white water rafting. Raft 1 is a family owned business that offers cabin guests a discounted rate when they stay at a Southern Comfort cabin and use Raft 1 for their Ocoee River rafting tour.
Special promotions and discounts are offered to make this one of a kind vacation not only the most popular in north Georgia but also the most affordable. There is a discount available for every budget whether it's for a weekend stay or an entire summer. Special rates are provided for teachers, active duty or retired Military, law enforcement and fire department personnel to show them appreciation for their daily dedication to the Country.
Included in most of the cabin rentals are amenities that can only be found at a luxury resort. No other North Georgia cabin rentals company can offer the luxury accommodations Southern Comfort Cabin Rentals offer at such a competitive rate.
Amenities provided by Southern Comfort Cabin Services include catering, romance packages, off sight ticket purchases, reservations for local attractions, flower delivery, child care, fitness membership passes, and recommendations to tours of Blue Ridge Mountains. For an additional minimal fee, staff will stock the cabin with groceries and have housekeeping clean the cabin mid-stay, daily, or on request a turndown service. There is absolutely nothing that a guest needs to do but show up, have fun and relax!