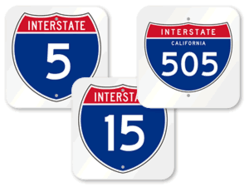 "The Route 66 sign is a favorite among our customers," said Cole Paulson, Manager of RoadTrafficSigns.com. "These are great gift items for history buffs. Signs are more than just messages—they are memorabilia."
Brooklyn, NY (PRWEB) May 17, 2012
RoadTrafficSigns.com, the leading Internet supplier of signs for highways and roads, is releasing new Novelty Interstate Signs. These signs make great gifts or keepsake items. The signs are available as standard interstate signs as well as state-specific versions.
Route 66 was not just a highway route but also a cultural phenomenon. According to Time.com, Route 66 was known as America's "Mother Road," running from Chicago to L.A. The highway began as the result of a need for American central highway, officially called Route 66 in 1926. Oklahoma is the most famous location on the route because it boasts the longest segment on the route. The highway was decommissioned in 1985, but it was an inspiration for many pop cultural vehicles such as a TV show, novels, and songs.
Route 66 and interstate signs are popular nostalgic items for bars and even function as gifts. RoadTrafficSigns' selection of Interstate Highway Signs carries a novelty sign for nearly every speed. Signs that show specific speeds like "4" or "24" indicate specific speeds on Route 66, the now decommissioned American hallmark. For example, the "4" sign is specially designed for the state of Florida's Interstate (I-4) and runs from Tampa to Daytona Beach. Find interstate signs for states such as Texas and Arizona. California has a special section for personal signs symbolizing the routes around specific towns, from San Bernadino to Sacramento.
The gem of the selection is the Route 66 Sign, a fun collector's sign. The sign is made just like the official street signs, and RoadTrafficSigns touts that its durable aluminum composition will outlast the car that went road tripping on the highway. "The Route 66 sign is a favorite among our customers," said Cole Paulson, Manager of RoadTrafficSigns.com. "These are great gift items for history buffs. Signs are more than just messages—they are memorabilia."
Signs are printed with 3M ink that stands out for miles. The signs are built to last up to 15 years outside. For more information, visit http://www.roadtrafficsigns.com/interstate-signs.
About RoadTrafficSigns.com
RoadTrafficSigns is the leading online distributor of MUTCD traffic signs. The signs are made with long-lasting 3M ink and offered in multiple reflective grades. Customers can create signs using convenient customization wizards.
About SmartSign
SmartSign is one of America's fastest growing e-commerce companies and parent of RoadTrafficSigns.com, MyParkingSign.com, as well as more than 50 other sites. The company manufactures and distributes a wide range of signs, tags, mats, and labels. In the past, many consumers have found it hard to find, hard to design and hard to order signs with the right message. By positioning "signs as solutions," SmartSign has taken an entirely different approach. Through highly targeted, content-rich, and authoritative retail sites, the company provides specific solutions to specific problems, such as customizing an asset tag. SmartSign is widely recognized for its quality construction; its signs come with a 3M® warranty and outlast fast-fading, ink-jet signs. Other SmartSign advantages include fast and free shipping, the Web's largest range of designs, and a best-price guarantee.